Infotec displays model behaviour
---
Our displays can now be part of the scenery on model railway sets!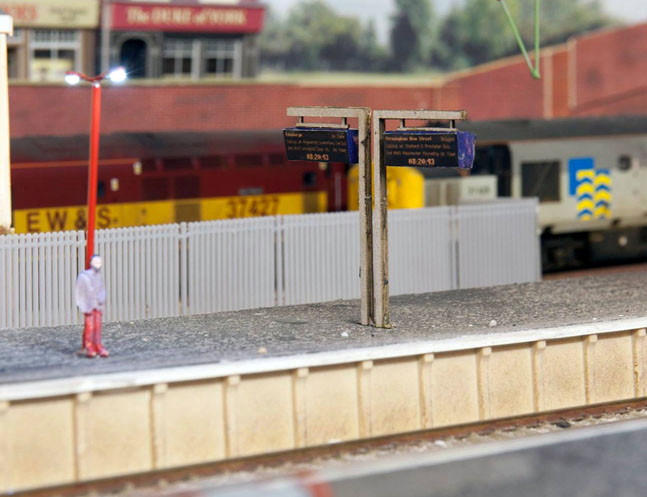 You know you're an important part of everyday life when your products are recreated in miniature for model railway enthusiasts to buy!
A pack of Next Train Indicators (NTIs), display boards and platform clocks based on the real Passenger Information Displays (PIDs) designed and built by Infotec are now available for adding detail to stations on miniature railway layouts.
Each set contains enough displays to detail a station layout with up to eight platforms. Reflecting the reality of what Leicestershire-based Infotec offers, the kit also includes templates for creating wall-brackets and free-standing gallows for mounting the displays.
The kit is based on original drawings supplied by leading passenger information specialist Infotec and is available online from scalemodelscenery.co.uk as laser-cut, 3D-printeditems or as downloads from ModelRailwayScenery.com
Commenting on their creation, Infotec's Managing Director Tim Court said: "We think this is brilliant! Hundreds of UK railway stations have displays designed and manufactured by us and so the kit will help any model railway enthusiast to recreate very realistic scenes.
"We were happy to help and hope the kits prove as popular and successful as the real things!"
Infotec has now set Model Scenery the challenge of creating models of its very latest full-matrix white LED displays. Watch this space!
---
It's 20 years since our Bids and Key Accounts Manager joined the company - and things have changed considerably over that time.
---
The latest staff social saw representatives from many departments challenge each other on the golf course.
---
Infotec's latest display is a simple to operate mobile unit that can be used to display everything from train running information to the latest news and social media content.
---
We have produced a simple video tutorial to help show how the Infotec R5 Draw Latch works.
---
From location to standards, there are a number of factors to take into consideration when specifying Passenger Information Displays (PIDs). Here's a quick guide to what should influence decisions ....