Infotec displays model behaviour
---
Our displays can now be part of the scenery on model railway sets!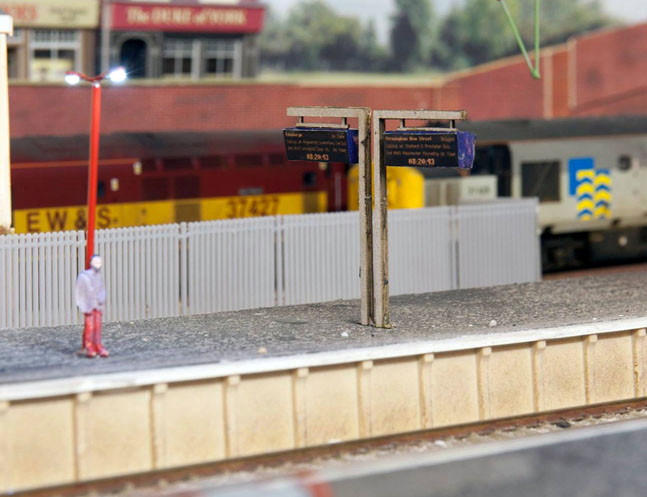 You know you're an important part of everyday life when your products are recreated in miniature for model railway enthusiasts to buy!
A pack of Next Train Indicators (NTIs), display boards and platform clocks based on the real Passenger Information Displays (PIDs) designed and built by Infotec are now available for adding detail to stations on miniature railway layouts.
Each set contains enough displays to detail a station layout with up to eight platforms. Reflecting the reality of what Leicestershire-based Infotec offers, the kit also includes templates for creating wall-brackets and free-standing gallows for mounting the displays.
The kit is based on original drawings supplied by leading passenger information specialist Infotec and is available online from scalemodelscenery.co.uk as laser-cut, 3D-printeditems or as downloads from ModelRailwayScenery.com
Commenting on their creation, Infotec's Managing Director Tim Court said: "We think this is brilliant! Hundreds of UK railway stations have displays designed and manufactured by us and so the kit will help any model railway enthusiast to recreate very realistic scenes.
"We were happy to help and hope the kits prove as popular and successful as the real things!"
Infotec has now set Model Scenery the challenge of creating models of its very latest full-matrix white LED displays. Watch this space!
---
Last orders for one of the power supply units used in some LED displays has been extended to the end of January 2019.
---
Stations including Portsmouth Harbour and Walton-on-Thames are to benefit from white LED displays which offer user, environmental and economic advantages over their yellow counterparts.
---
Travellers in London are starting to benefit from deployment of Infotec's new mobile displays.
---
Two more talented travellers have won themselves £100 vouchers by taking photos of Infotec displays in action.
---
Following the success of Infotec in providing on-vehicle passenger information display (PID) solutions for the Vancouver Metro, a third order has been placed.