First white LED mainboard
---
White LEDs on the main board are ideal for the modern, brightly backlit concourse at Dundee's relaunched station.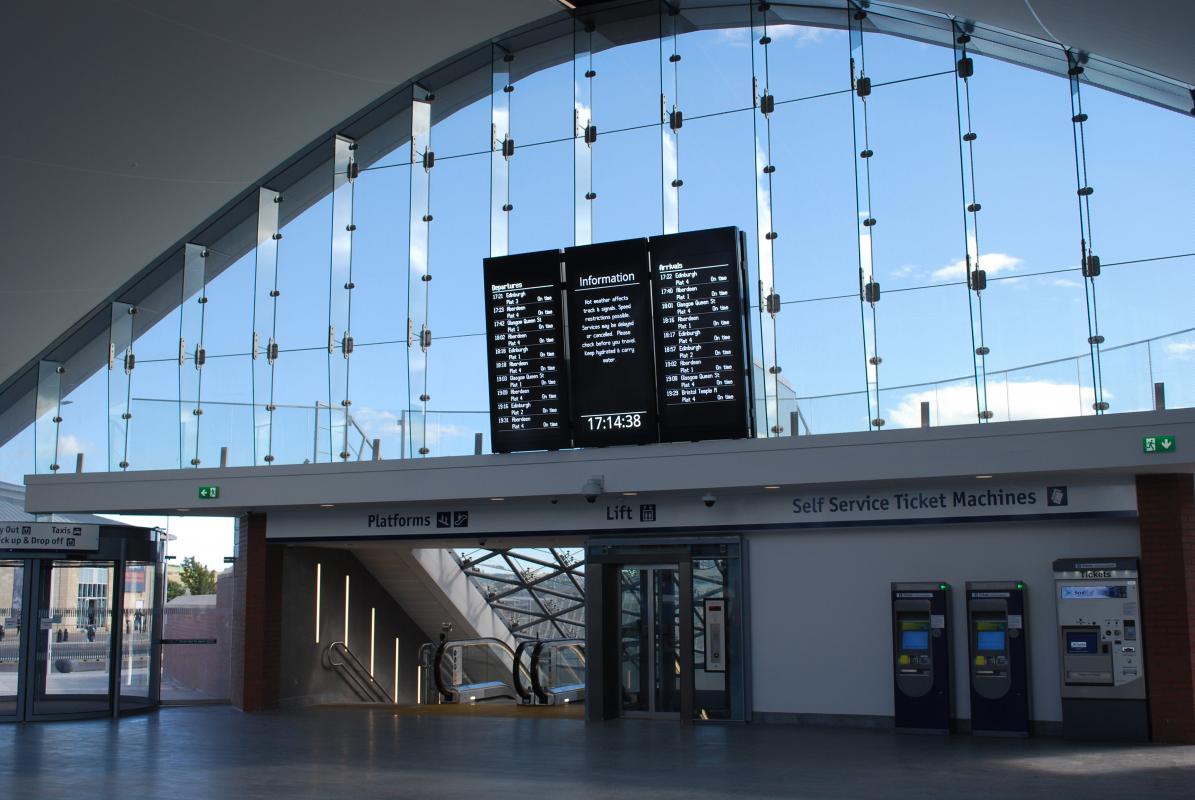 The refurbished Dundee station has officially opened today (July 9) following a £38m refurbishment which includes the introduction of Infotec's first ever white LED mainboard.
The use of 87" full-matrix displays to create mainboards is now a standard design, originally provided to Waterloo station as a full-matrix equivalent of its existing mainboard. The flexibility offered by this technology will allow for potential changes to layouts / presentations further down the line should passenger needs change or different regulations of CIS are introduced.
For Dundee, which has a brand-new concourse with modern aesthetics and is very brightly backlit, Infotec advised that white LED was the right choice. The displays are brighter and higher in contrast and can be read very easily, especially in a large sunlit area.
There is a growing preference for these LEDs across the UK. In the last 12 months, Infotec has sold over 300 white LED displays for use on ATW, Govia Thameslink, GWR, Merseyrail , Northern, Southeastern and TransPennine Express stations.
In addition to clarity, the advantages of white LEDs include their long-term reliability, the surface mount technology used is much better than the former through-hole technology and they have a 30% lower power requirement than the equivalent yellow LEDs.
To help fix the new mainboard at Dundee, Infotec has produced a bespoke fixing arrangement that has connected to the client's own steelwork. This is based on previous approaches used and about which Infotec provided information to help with the Dundee design.
Dundee is one of dozens of Scottish railway stations to which new Infotec displays are being provided.
---
Travellers arriving at Euston station's new taxi rank instantly know which platform to head for and how long they have to get there, thanks to new displays designed and manufactured by Infotec and managed using its Javelin-DMS back office system.
---
The appointment of a new Sales Project Engineer is the latest step in Infotec's medium and long-term strategies to expand by developing new products and services.
---
Visitors to our stand at Railtex 2019 had the chance to see the latest systems available, developed by Infotec to provide solutions to passenger management and customer satisfaction needs.
---
A unique Infotec system gives South Western Railway (SWR) station staff more detailed train movement information.
---
Travellers going to the Isle of Wight can now find real-time information about rail, bus, hoverbus and flights in single displays.