First white LED mainboard
---
White LEDs on the main board are ideal for the modern, brightly backlit concourse at Dundee's relaunched station.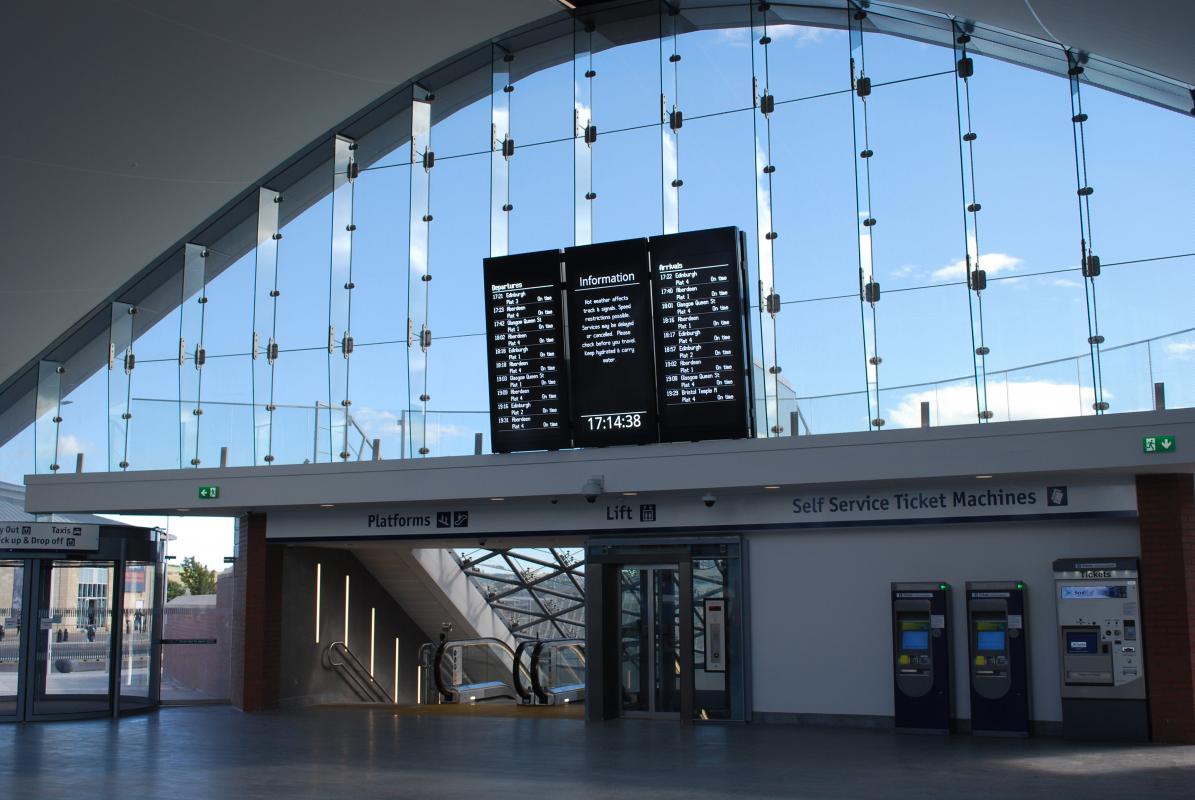 The refurbished Dundee station has officially opened today (July 9) following a £38m refurbishment which includes the introduction of Infotec's first ever white LED mainboard.
The use of 87" full-matrix displays to create mainboards is now a standard design, originally provided to Waterloo station as a full-matrix equivalent of its existing mainboard. The flexibility offered by this technology will allow for potential changes to layouts / presentations further down the line should passenger needs change or different regulations of CIS are introduced.
For Dundee, which has a brand-new concourse with modern aesthetics and is very brightly backlit, Infotec advised that white LED was the right choice. The displays are brighter and higher in contrast and can be read very easily, especially in a large sunlit area.
There is a growing preference for these LEDs across the UK. In the last 12 months, Infotec has sold over 300 white LED displays for use on ATW, Govia Thameslink, GWR, Merseyrail , Northern, Southeastern and TransPennine Express stations.
In addition to clarity, the advantages of white LEDs include their long-term reliability, the surface mount technology used is much better than the former through-hole technology and they have a 30% lower power requirement than the equivalent yellow LEDs.
To help fix the new mainboard at Dundee, Infotec has produced a bespoke fixing arrangement that has connected to the client's own steelwork. This is based on previous approaches used and about which Infotec provided information to help with the Dundee design.
Dundee is one of dozens of Scottish railway stations to which new Infotec displays are being provided.
---
Infotec's gallery has been updated to provide images and basic details about the latest customer information displays.
---
Two members of the Infotec team have successfully completed a workplace first aid course.
---
Last orders for one of the power supply units used in some LED displays has been extended to the end of January 2019.
---
Stations including Portsmouth Harbour and Walton-on-Thames are to benefit from white LED displays which offer user, environmental and economic advantages over their yellow counterparts.
---
Travellers in London are starting to benefit from deployment of Infotec's new mobile displays.