TFT and LED displays for Derby
---
New displays at the remodelled Derby station are keeping passengers fully informed and on the move.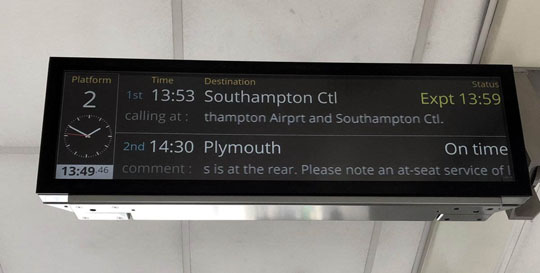 A 79-day project to upgrade the track, signalling and station layout at Derby station is now complete.
One of the first stages of the work involved building a new 320-metre platform which includes two extra wide lifts up to the bridge above.
The pre-cast concrete platform is covered by a steel canopy which has been designed to match those existing on the adjacent platforms. Similarly, the new wide aspect double-sided passenger information displays manufactured by Infotec for the new platform use yellow LED technology, again matching those elsewhere in the station
Two new lifts have been included as the new platform does not have subway access as an alternative to the stairs. At the footbridge level of these lifts, landscape TFT displays by Infotec have been installed, keeping passengers fully informed and on the move.
The new displays at Derby are the latest of hundreds provided to East Midlands Trains by Infotec, with others at stations in busy city locations such as Leicester, Nottingham and Sheffield as well as stations with lower footfall including Belper, Duffield, Ilkeston and Uttoxeter.
---
Infotec has been assessed by Safety Schemes in Procurement to help reassure buyers of its high standards.
---
Infotec's gallery has been updated to provide images and basic details about the latest customer information displays.
---
Two members of the Infotec team have successfully completed a workplace first aid course.
---
Last orders for one of the power supply units used in some LED displays has been extended to the end of January 2019.
---
Stations including Portsmouth Harbour and Walton-on-Thames are to benefit from white LED displays which offer user, environmental and economic advantages over their yellow counterparts.