First innovative mobiles go out
---
Travellers in London are starting to benefit from deployment of Infotec's new mobile displays.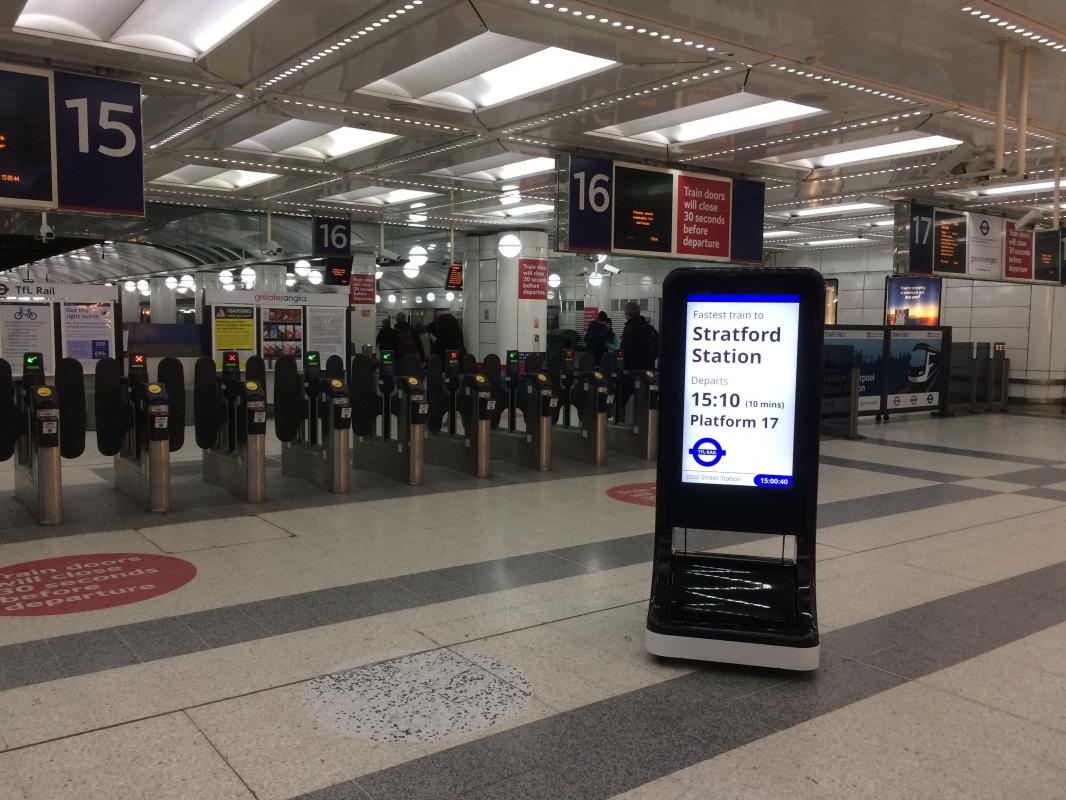 The first orders for Infotec's innovative mobile TFT Passenger Information Display which is ideal for special notices or an additional information display at busy periods have started to go out.
Locations in which you may have seen them include London Liverpool Street where Transport for London Rail is using them to keep passengers informed and moving, Chadwell Heath, and Heathrow Airport.
The idea for the MD42P was born from discussions with clients about a need for a robust and reliable IP65 rated mobile display unit. What has been developed as a result not only achieves but surpasses those initial concepts.
The MD42P has Infotec's recently-launched standard 42" poster display chassis mounted into it. This 42" TFT panel can be quickly and easily maintained in situ from the front, using standard tool access.
The unit is ideal for use with Infotec's web-based back office system Javelin, meaning that customers can choose to display almost anything they want, from routine train running information to RSS news and weather feeds to secured social media content. Data is delivered to the displays wirelessly using GSM connectivity.
With up to 20 hours of battery life from a full charge, the unit works well with today's shift patterns; users will never be without information.
The displays have been designed to make the screen the focal point. The outer cladding is made from Glass Reinforced Plastic (GRP) and the specialised system used for this is Section 12 compliant as well as meeting EN45545 standards.
The feedback has been excellent, with everyone commenting on how simple it is to operate and very easy to maintain.
Additional features on the MD42P include:
• Battery charge and discharge gauges – so at a glance the operator can see the level of charge
• Dead man's handle
• Retained pull handle – returns to stowed position when not being used
• Section 12 Compliant (batteries require Section 12 concessions)
• IP65 Rugged Display
• Up to 20 Hours battery operation off a full charge
• Automatic brightness control
• Mains or battery powered
The MD42P is now available to order. To ask any questions or arrange a viewing of the displays, please contact Marketing and Bids Manager James Lisney on 01530-566502 or email sales@infotec.co.uk
---
Travellers arriving at Euston station's new taxi rank instantly know which platform to head for and how long they have to get there, thanks to new displays designed and manufactured by Infotec and managed using its Javelin-DMS back office system.
---
The appointment of a new Sales Project Engineer is the latest step in Infotec's medium and long-term strategies to expand by developing new products and services.
---
Visitors to our stand at Railtex 2019 had the chance to see the latest systems available, developed by Infotec to provide solutions to passenger management and customer satisfaction needs.
---
A unique Infotec system gives South Western Railway (SWR) station staff more detailed train movement information.
---
Travellers going to the Isle of Wight can now find real-time information about rail, bus, hoverbus and flights in single displays.