Healthy result!
---
Two members of the Infotec team have successfully completed a workplace first aid course.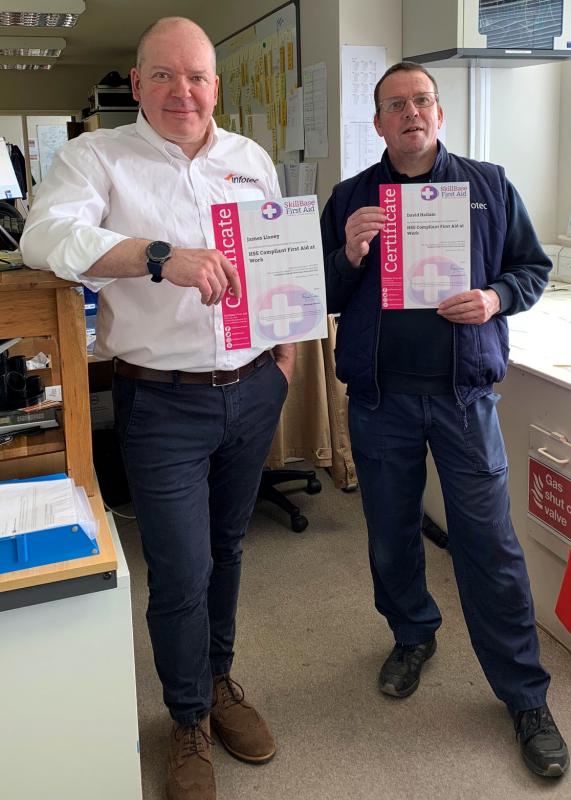 Well done to Infotec's Prep Department Engineer Dave Hallam and Bids and Key Accounts Manager James Lisney who have each successfully completed a Health & Safety Executive (HSE) compliant First Aid at Work training course.
The pair spent three days learning basic life support skills and how to deal with a wide range of situations and conditions including head, neck and back injuries, heart attacks, concussion, bleeding, burns and fractures. How to use a defibrillator was also covered.
A full explanation of First Aider responsibilities in the workplace was provided on the course, run by SkillBase First Aid in Leicester.
Dave and James are now qualified workplace first aiders, adding to those at Infotec who already hold the qualification.
---
Visitors to our stand at Railtex 2019 had the chance to see the latest systems available, developed by Infotec to provide solutions to passenger management and customer satisfaction needs.
---
A unique Infotec system gives South Western Railway (SWR) station staff more detailed train movement information.
---
Travellers going to the Isle of Wight can now find real-time information about rail, bus, hoverbus and flights in single displays.
---
Infotec has been assessed by Safety Schemes in Procurement to help reassure buyers of its high standards.
---
Infotec's gallery has been updated to provide images and basic details about the latest customer information displays.