Stay in the display picture
---
Infotec's gallery has been updated to provide images and basic details about the latest customer information displays.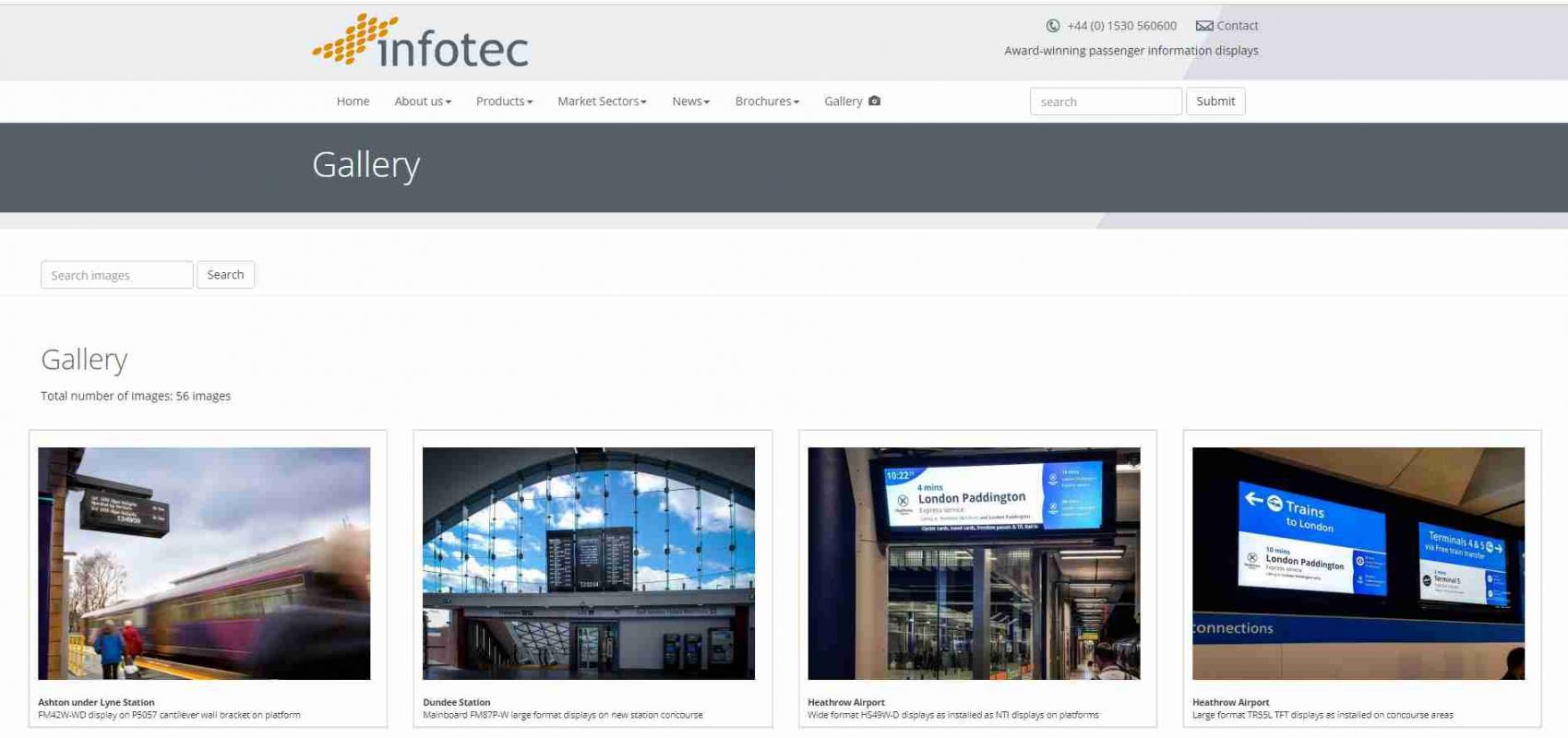 Images of the very latest customer information displays in use are available for passenger information, customer service and station managers to see, thanks to an updated gallery on the website of leading display manufacturer Infotec.
First added to the website two years ago with revisions along the way, the gallery has now been completely revised to showcase the latest products on offer. It also allows those seeking to identify the product number of a display they have seen on a particular station to do so.
Over 50 images of everything designed and manufactured by Infotec, from wide format HS49W-D displays as installed as NTI displays on platforms at Heathrow Airport Station, through a multi-modal TS42B display deployed as a bus service summary in the rail station booking hall at Rhyl, to a FM28L-HW full matrix ECO white LED display at Twickenham Station, are currently included.
Gallery visitors can also find images of displays created for sub-surface rail lines, bus stations, bus shelters, metro systems, on-vehicle use and for retail settings such as Yo Sushi in London Waterloo.
A high quality image of each display with the location, product code and product description is included.
The gallery has a sophisticated search function that means displays are searchable by station name, product type and/or product code, enabling users to find what they want to see and know in seconds!
Infotec's Bids and Key Accounts Manager James Lisney says: "The gallery provides a quick and easy way for existing and potential clients to identify the type of display they require.
"We continually add to it as our new products go into service, both in the UK and overseas, so we encourage anyone interested to revisit on a regular basis."
The gallery can be viewed at www.infotec.co.uk/gallery
---
Travellers arriving at Euston station's new taxi rank instantly know which platform to head for and how long they have to get there, thanks to new displays designed and manufactured by Infotec and managed using its Javelin-DMS back office system.
---
The appointment of a new Sales Project Engineer is the latest step in Infotec's medium and long-term strategies to expand by developing new products and services.
---
Visitors to our stand at Railtex 2019 had the chance to see the latest systems available, developed by Infotec to provide solutions to passenger management and customer satisfaction needs.
---
A unique Infotec system gives South Western Railway (SWR) station staff more detailed train movement information.
---
Travellers going to the Isle of Wight can now find real-time information about rail, bus, hoverbus and flights in single displays.