Gold standard achieved
---
Infotec has been assessed by Safety Schemes in Procurement to help reassure buyers of its high standards.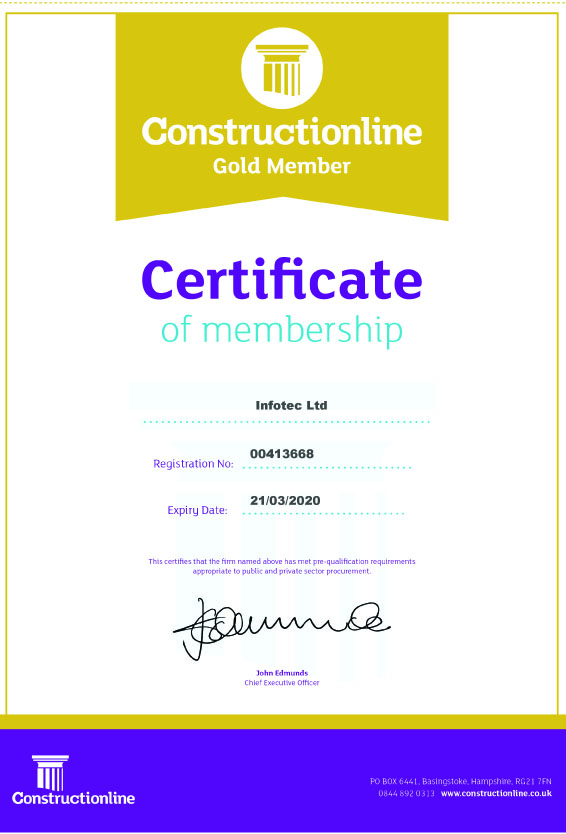 Two accreditations recently awarded to Infotec provide further reassurance to customers that the passenger information system specialist is committed to high standards of health and safety, business ethics and quality.
Infotec was assessed by Safety Schemes in Procurement (SSIP) and awarded Acclaim Health and Safety Certification at the end of March.
SSIP was created as an umbrella organisation to enable mutual understanding and recognition between different health and safety schemes in the UK, enabling client procurement teams to determine that companies are meeting the requirements for preferred supplier lists and any individual contracts.
Having SSIP certification streamlines the tender process for buyers, to assist them in identifying suitable suppliers.
Having achieved Acclaim Health and Safety Certification, Infotec decided to apply for Constructionline Gold, for which applicants are assessed on additional areas; including environmental management, quality management, equality and diversity.
It ensures that companies comply with relevant legislation in areas such as modern slavery, anti-bribery and corruption whilst demonstrating they have been independently assessed with reference to these standards.
Governance
Commenting on achieving both certifications, Infotec's Quality Manager Alan Reilly said: "We are very pleased that we can inform current and potential customers that we have achieved these awards".
"Constructionline Gold demonstrates to buyers that we have received increased scrutiny around governance and risk management."
These certificates and others held by Infotec are all available to view and download on the website.
---
Travellers arriving at Euston station's new taxi rank instantly know which platform to head for and how long they have to get there, thanks to new displays designed and manufactured by Infotec and managed using its Javelin-DMS back office system.
---
The appointment of a new Sales Project Engineer is the latest step in Infotec's medium and long-term strategies to expand by developing new products and services.
---
Visitors to our stand at Railtex 2019 had the chance to see the latest systems available, developed by Infotec to provide solutions to passenger management and customer satisfaction needs.
---
A unique Infotec system gives South Western Railway (SWR) station staff more detailed train movement information.
---
Travellers going to the Isle of Wight can now find real-time information about rail, bus, hoverbus and flights in single displays.