Display system to keep travellers fully informed
---
Travellers going to the Isle of Wight can now find real-time information about rail, bus, hoverbus and flights in single displays.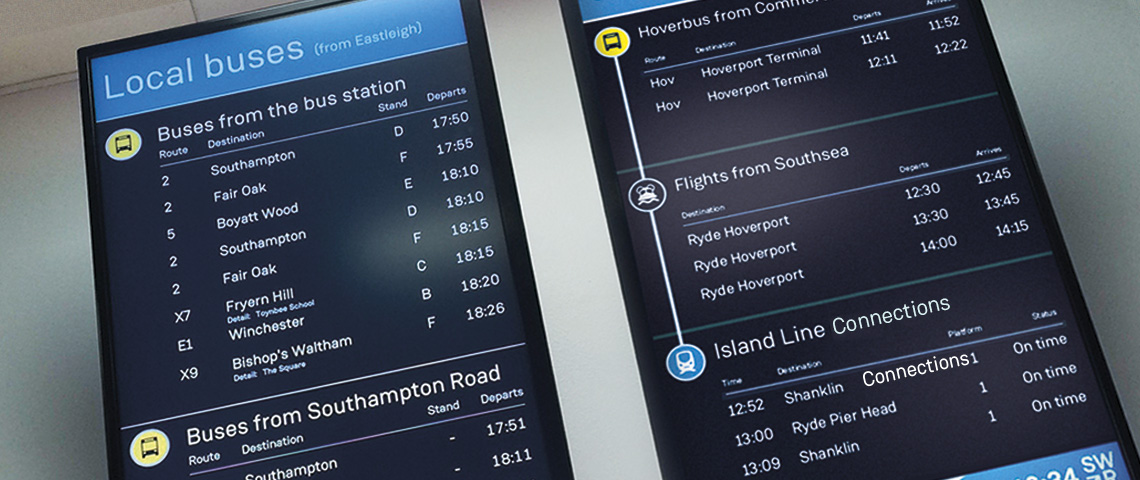 Passengers heading for the Isle of Wight have various journey opportunities available to them and so to make the best choices need to get details from several different providers.
Having to contact a selection of companies or to ask station staff in locations such as Portsmouth Harbour for details was time-consuming and disruptive for both the passengers and for the station staff.
So, to make it easier for passengers to make decisions and to reduce enquiries to on-station staff, South Western Railway (SWR) recognised the need to present information from a range of travel providers in one place.
SWR uses Infotec to provide railway information to passengers throughout its network and so asked if the company could help it to provide details of other services.
Infotec has designed a solution in the form of a system that uses Javelin, Infotec's cloud-based back office Display Management System (DMS) which interfaces seamlessly to amGuard and tsPlayer and allows additional content to be managed to Infotec tsPlayer-enabled displays.
The system takes in data from different sources, intelligently matches it up, and then provides passengers with details to help them make the best travel choices.
Infotec's embedded display software converts incoming data via industry standard protocols (EDF or TDP) into the presentations seen by the passenger.
In the new Infotec system, real-time information about rail, bus, hoverbus and flights is all presented dynamically in single LED and TFT displays, designed and manufactured by Infotec as part of the package.
All Infotec displays incorporate cutting-edge integrated system-on-chip central processing units (CPUs), providing best in class graphic and video processing facilities.
Locations at which the new displays have been installed include Eastleigh, Portsmouth Harbour, Ryde Pier Head and Yarmouth Slipway.
Commenting, Infotec Managing Director Tim Court said: "An increasing number of customers are recognising that Infotec has outstanding ability to design complete passenger information solutions. Our systems are about much more than just the hardware
"The multi-modal displays for South Western Railway provide clear, concise, professionally-presented information and they have already generated plenty of positive feedback."
---
Travellers arriving at Euston station's new taxi rank instantly know which platform to head for and how long they have to get there, thanks to new displays designed and manufactured by Infotec and managed using its Javelin-DMS back office system.
---
The appointment of a new Sales Project Engineer is the latest step in Infotec's medium and long-term strategies to expand by developing new products and services.
---
Visitors to our stand at Railtex 2019 had the chance to see the latest systems available, developed by Infotec to provide solutions to passenger management and customer satisfaction needs.
---
A unique Infotec system gives South Western Railway (SWR) station staff more detailed train movement information.
---
Travellers going to the Isle of Wight can now find real-time information about rail, bus, hoverbus and flights in single displays.