Glasgow goes live
---
A range of infotec's displays are being used as part of the redevelopment of Glasgow Queen Street station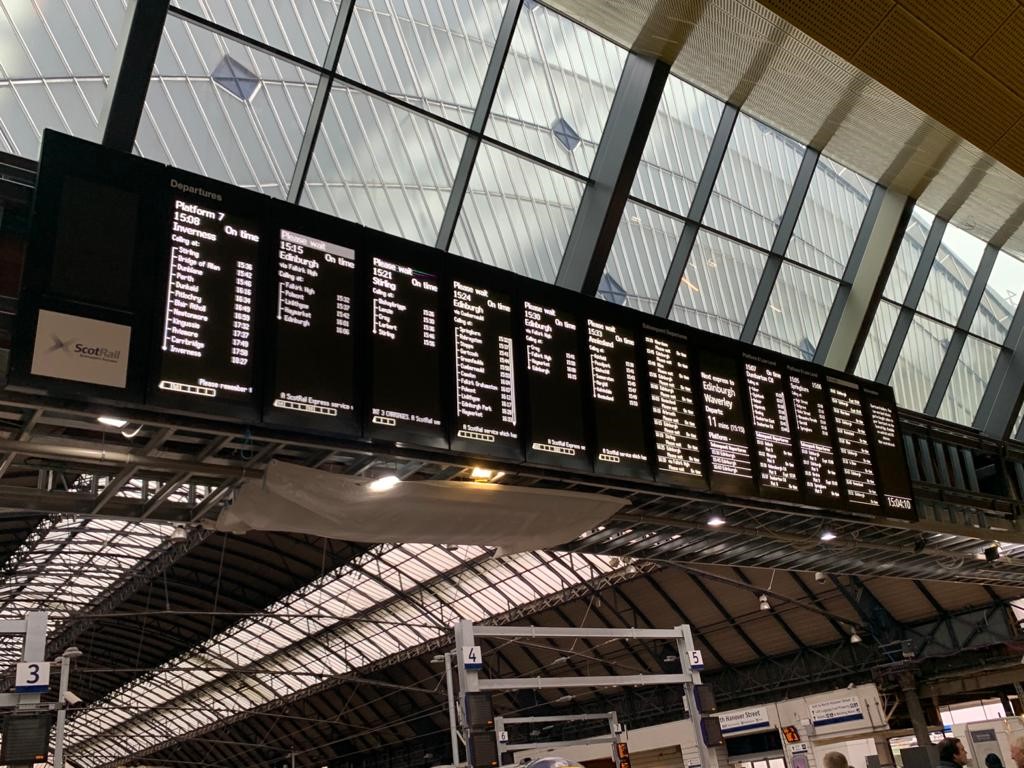 As part of the £120m redevelopment of Glasgow Queen Street (GQS) station, new passenger information screens designed and manufactured by Infotec are being installed.
This week has seen the main board go live. Featuring Infotec's ECO white LEDs, as the Network Rail video says, 30% less power is required than by yellow counterparts.
https://twitter.com/i/status/1224764460604280834
All of Infotec's LED displays use full matrix technology allowing scripts with enhanced functionality and graphical presentation. On the main boards at GQS this is used to provide reservation level details for carriages as well as to include accurate logo graphics.
Some of the panels on the main board have been designed as split screens, with full details of the next departure for the platform listed at the top and then a summary of subsequent departures with platform and time information beneath.
One of the main board panels is dedicated to providing details of how long until the next express service to Edinburgh Waverley and again also includes a list of subsequent departures to the capital.
In addition to the displays for the modern, expanded concourse, Infotec is providing dozens of displays for other areas of the redeveloped station.
These include next train indicators for platforms, summary of departure displays including the calling times for each station on the journey, attention-grabbing TFTs for use as Operational Information System (OIS) notices and mid-platform clock displays.
The redevelopment of Glasgow Queen Street is part of the Edinburgh Glasgow Improvement Programme (EGIP) – a Scottish Government-investment in the railway infrastructure across central Scotland.
---
Infotec deploys adaptive engineering on a regular basis to economically and quickly modify standard products to meet specific requirements
---
Infotec is taking necessary and reasonable steps to protect its supply chain and business
---
A range of infotec's displays are being used as part of the redevelopment of Glasgow Queen Street station
---
Infotec's new Open Application Displays provide all the reliability and outstanding features of the company's hardware but allow customers to run their own applications
---
A new department has been created to further enhance the customer support offered by Infotec