Kings Cross Western Concourse
---
The new Western concourse at London's King's Cross – which features a new customer information display supplied by Infotec - is now open for business, with thousands of passengers passing through every day.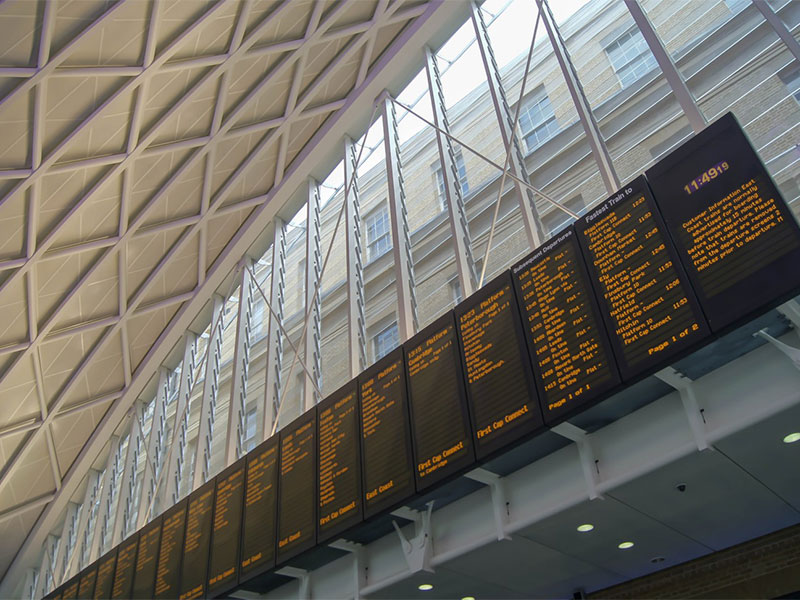 Over £500m is being invested in the station to transform it into a world class transform hub designed to meet future demand and offer the very best facilities for customers – including in terms of the delivery of information. The refurbishment is being funded by the Department for Transport and Network Rail and will be fully completed next year.
Infotec was contracted for its work on this prestigious project by NG Bailey. NG Bailey, one of the UK's largest building services providers, has worked with VINCI Construction UK to deliver the Mechanical & Electrical (M&E) and Information Communication Technology (ICT) Services, for the station redevelopment.
Leicestershire-based Infotec supplied 40 platform displays, 20 clocks and all of the bracketry required to support them at this, one of the UK's busiest stations. Design was completed by Fourway. Included in the solutions Infotec has provided as part of the site-wide CIS are two large displays made up of 42 individual boards. These will be invaluable to the influx of customers expected to be brought in by the Olympic Games this summer as well as those who use the station on a regular basis. This was not Infotec's first work at King's Cross; we supplied customer information displays for the station back in 2003 and they were still perfectly functional - the total redesign of the station is the reason we were invited to replace them.
Tim Cunningham, operations director for NG Bailey in London, said: "We were delighted to be working on one of the City's largest schemes and having Infotec as part of our highly professional team. The redevelopment of the station is one of Network Rail's most prestigious projects and one that we are all proud to have beenpart of."
---
Infotec deploys adaptive engineering on a regular basis to economically and quickly modify standard products to meet specific requirements
---
Infotec is taking necessary and reasonable steps to protect its supply chain and business
---
A range of infotec's displays are being used as part of the redevelopment of Glasgow Queen Street station
---
Infotec's new Open Application Displays provide all the reliability and outstanding features of the company's hardware but allow customers to run their own applications
---
A new department has been created to further enhance the customer support offered by Infotec