Kings Cross Western Concourse
---
The new Western concourse at London's King's Cross – which features a new customer information display supplied by Infotec - is now open for business, with thousands of passengers passing through every day.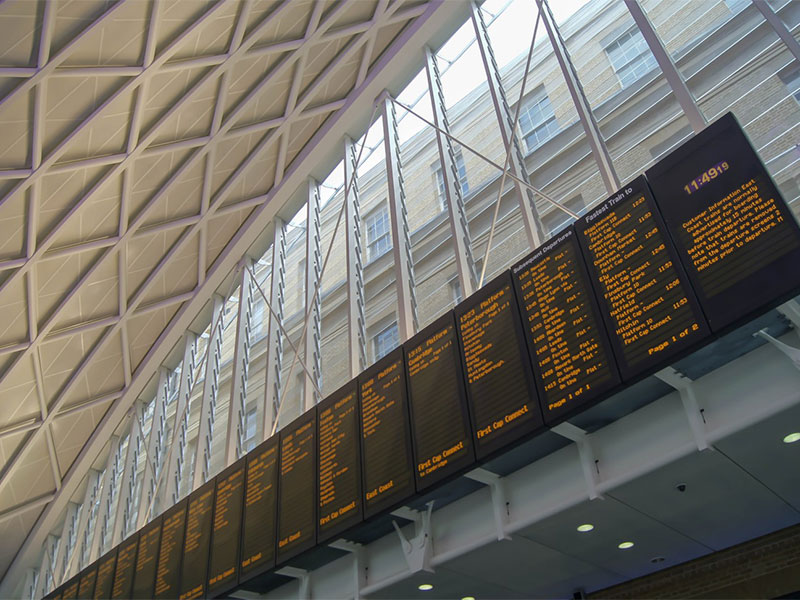 Over £500m is being invested in the station to transform it into a world class transform hub designed to meet future demand and offer the very best facilities for customers – including in terms of the delivery of information. The refurbishment is being funded by the Department for Transport and Network Rail and will be fully completed next year.
Infotec was contracted for its work on this prestigious project by NG Bailey. NG Bailey, one of the UK's largest building services providers, has worked with VINCI Construction UK to deliver the Mechanical & Electrical (M&E) and Information Communication Technology (ICT) Services, for the station redevelopment.
Leicestershire-based Infotec supplied 40 platform displays, 20 clocks and all of the bracketry required to support them at this, one of the UK's busiest stations. Design was completed by Fourway. Included in the solutions Infotec has provided as part of the site-wide CIS are two large displays made up of 42 individual boards. These will be invaluable to the influx of customers expected to be brought in by the Olympic Games this summer as well as those who use the station on a regular basis. This was not Infotec's first work at King's Cross; we supplied customer information displays for the station back in 2003 and they were still perfectly functional - the total redesign of the station is the reason we were invited to replace them.
Tim Cunningham, operations director for NG Bailey in London, said: "We were delighted to be working on one of the City's largest schemes and having Infotec as part of our highly professional team. The redevelopment of the station is one of Network Rail's most prestigious projects and one that we are all proud to have beenpart of."
---
It's 20 years since our Bids and Key Accounts Manager joined the company - and things have changed considerably over that time.
---
The latest staff social saw representatives from many departments challenge each other on the golf course.
---
Infotec's latest display is a simple to operate mobile unit that can be used to display everything from train running information to the latest news and social media content.
---
We have produced a simple video tutorial to help show how the Infotec R5 Draw Latch works.
---
From location to standards, there are a number of factors to take into consideration when specifying Passenger Information Displays (PIDs). Here's a quick guide to what should influence decisions ....