Newcastle Station CIS
---
The experience of passenger information display specialist Infotec in providing solutions for heritage station buildings has proved useful for a contract at Newcastle Central Station.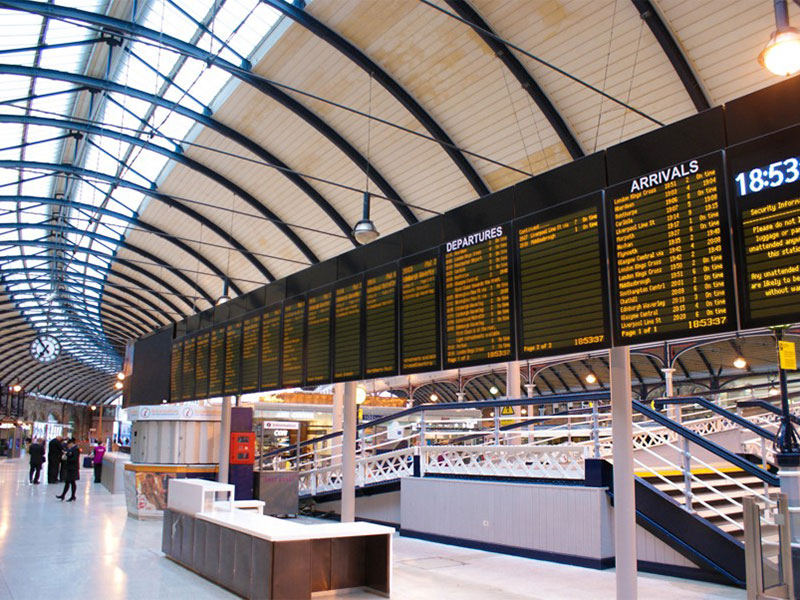 A £multi-million modernisation of the station was announced last year by East Coast Main Line in partnership with Network Rail, and work to achieve this is now almost complete. A significant part of the renovation involved transforming an area in front of the station previously used by taxis into a pedestrian-only portico, similar to that added to Nottingham station during its recent makeover. Infotec designed and supplied six support posts for the Newcastle portico.
They are multi-purpose, being used to carry CCTV, speakers and ticket machines at their base as well as a dozen Infotec summary of departures and arrivals displays. For the main concourse Infotec has designed and supplied a large freestanding main board, which stretches to a length of 20m. Core samples were taken and evaluated before Infotec's engineers started on the design of the support structure. Infotec's main board displays have been put in place; a J C Decaux advertising screen is to be added in a frame created within the steel structure by Infotec in the next few weeks. The work at Newcastle follows transformation of another heritage station building in which Infotec passenger information displays have been used, London's King's Cross. Infotec also supplied the displays for the aforementioned Nottingham station revamp.
Infotec worked in partnership with Fone-Alarm Installations Ltd (FAI) in Newcastle. FAI Director John Horner said: "Working in partnership with FAI, Infotec designed, supplied and installed the CIS displays support structure and 16 CIS displays on the main concourse, along with a further six CIS support posts installed in the portico. "The works were to a very tight schedule, but the team managed to complete the works on time and within budget."Infotec's products and technology are used to provide display solutions at overground and underground stations and on metro and bus systems - at the last count more than 8,000 displays at over 1000 UK stations - and in an increasing number of locations overseas including Mexico and the USA.
---
Last orders for one of the power supply units used in some LED displays has been extended to the end of January 2019.
---
Stations including Portsmouth Harbour and Walton-on-Thames are to benefit from white LED displays which offer user, environmental and economic advantages over their yellow counterparts.
---
Travellers in London are starting to benefit from deployment of Infotec's new mobile displays.
---
Two more talented travellers have won themselves £100 vouchers by taking photos of Infotec displays in action.
---
Following the success of Infotec in providing on-vehicle passenger information display (PID) solutions for the Vancouver Metro, a third order has been placed.