Twickenham first to get Infotec cut TFT
---
Twickenham railway station in West London is the first UK station to have one of Infotec' s cut TFT displays installed.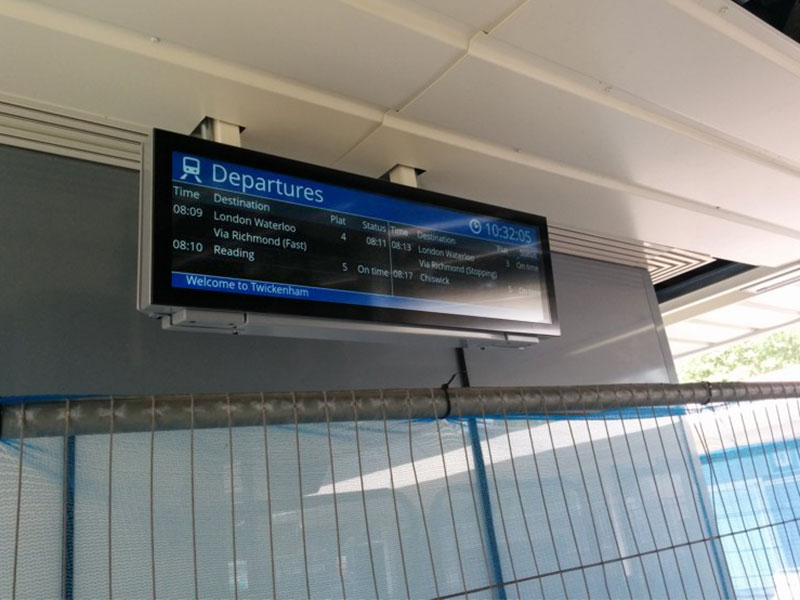 Supplied for installation by information co-ordination specialist Trans Data Management (TDM) as part of a station improvement programme in preparation for the forthcoming Rugby World Cup, the 38" Tetrus rugged TFT high brightness display has ultra wide orientation, giving it a 16:4 aspect ratio. The ability to ' cut' standard TFT displays to produce wider aspect displays has proved useful for installs on vehicles, platforms and above-door locations where height clearance can be an issue.
Infotec is supplying them for the prestigious Crossrail project and shipping them to fulfil orders in other UK and some North American locations. As well as the TR38L cut TFT Infotec has supplied P1144 small format three-line with clock Next Train Indicators for Twickenham station which is expected to see more than 720,000 visitors pass through during the rugby tournament in September. Integrated into the displays are Infotec micro PA units.
This display technology receives textual information from the CIS system central computer and interprets it to produce the visual output on the displays. This same textual information is also used as the input to Infotec' s Text To Speech (TTS) system, allowing the microPA units to speak the words as well as display them visually. The displays are also under the control of the station staff and written messages can be shown instantly to tie in with PA announcements as a direct reaction to changing situations. This will prove invaluable when 20,000 rugby fans an hour are all wanting to get to the stadium for the start of the matches.
The total £5.2m being invested in Twickenham station is using funding from the Network Rail and South West Trains Alliance, the government' s National Station Improvement Programme and a £1.6m contribution from the Greater London Authority via Richmond Council.
s.
---
Infotec deploys adaptive engineering on a regular basis to economically and quickly modify standard products to meet specific requirements
---
Infotec is taking necessary and reasonable steps to protect its supply chain and business
---
A range of infotec's displays are being used as part of the redevelopment of Glasgow Queen Street station
---
Infotec's new Open Application Displays provide all the reliability and outstanding features of the company's hardware but allow customers to run their own applications
---
A new department has been created to further enhance the customer support offered by Infotec