Elizabeth Line prompts innovation
---
Exciting new developments that will benefit all clients have been achieved as a result of Infotec's work for the Elizabeth Line.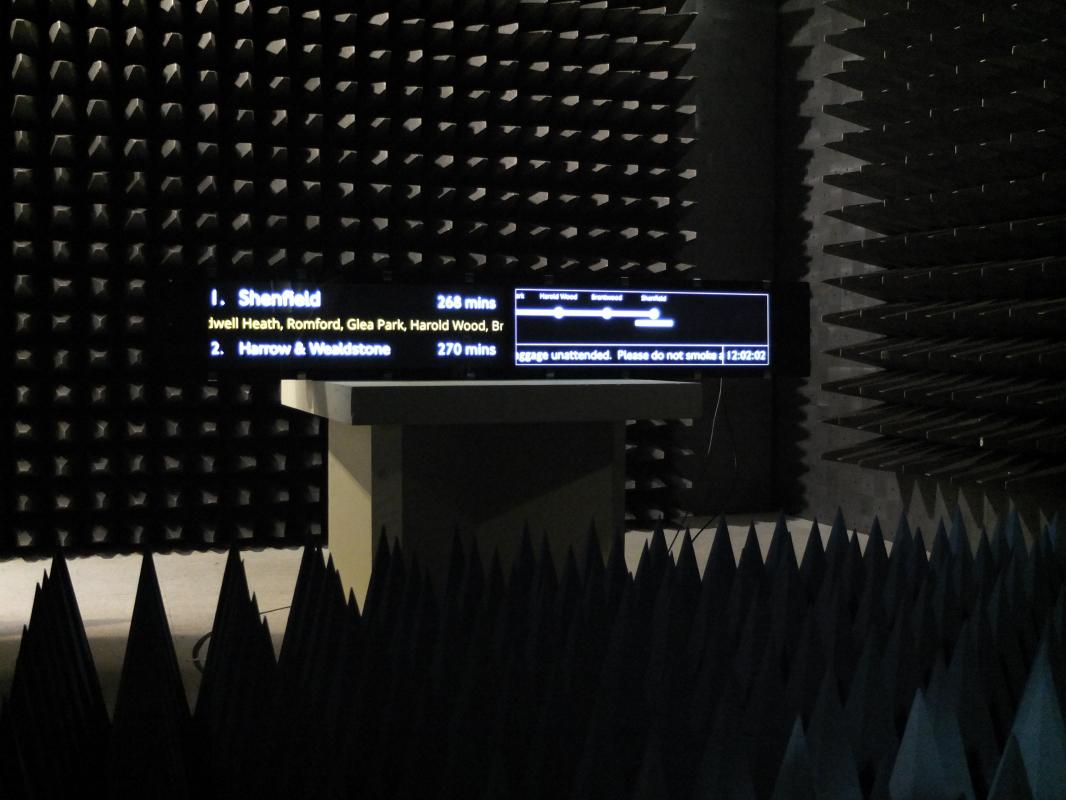 Photo shows passenger screen door (PSD) panels going through testing in our in-house EMC chamber.
Research and development work by Infotec engineers to create panels to house passenger information displays for Crossrail has delivered some exciting innovations.
The Crossrail order, placed with Infotec by Siemens, includes 2m-long TFT displays that will be mounted over the passenger screen doors in nine stations on the central section of the Elizabeth Line.
Producing a sheet metal casing that is almost 2m in length is very complicated and subject to manufacturing machine limitations and tolerance issues. The result is also rather heavy.
We decided an aluminium extrusion would be preferable. It has fewer tolerance issues and produces an accurate, rigid and light-weight solution, which looks very smart and can be a better conductor of heat too.
Having designed the tooling for what we needed, we had to carefully select a supplier, because the capability for the wide extrusion needed exists only in a small number of foundries in Europe.
We did identify one and the tooling specifically created is now being used to manufacture the panels.
This is not the only development for which the Crossrail order has acted as a catalyst.
Senior Project Engineer Kevin Hancock next looked at the method of attaching the glass to the Platform Screen Door (PSD) unit and decided this could be improved.
Normal methods involve clamping internally or bonding to the front face, neither of which allowed use of a one-part extrusion.
As a result, Kevin started to look at spring clips and after creating a few handmade prototypes, some of which resulted in chipped glass edges, achieved a final a design.
Among requirements taken into consideration was achieving the compression on the glass required. The glass is located onto a gasket, which when compressed delivers an IP rating (water and dust ingress), and all this is done by the spring clips.
The number of spring clips used and Kevin's clever angled design has achieved the results needed.
Spring clip design is now an additional tool that Infotec can use to help meet customer demands and expectations of CIS.
---
The ability to make changes to individual or groups of Infotec's displays is being used by Southeastern to mark the day dedicated to Ireland's patron saint.
---
Every month we're offering a prize for the best photograph we receive of our passenger information displays in action
---
Infotec SMT Machine Operator Beth has "braved the shave" to raise funds for charity
---
New-look displays that deliver train running information, summary details and show the time in two formats are going into operation at Northern stations.
---
After new external cabling was fitted, an Infotec display situated directly beneath the fire at Nottingham station has proved perfectly functional.