Passenger praise for new displays
---
Detailed information on CIS for c2c is proving useful to the travelling public.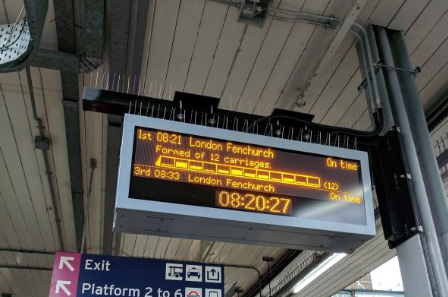 Full matrix passenger information displays designed by Infotec and suppled to c2c stations are being very well received by the travelling public.
The displays, some of which include additional features such as train loading details, have prompted station users to post comments on social media since their installation in July and August.
One, at Upminster, said: "This is VERY exciting. New signs at Upminster indicating how full carriages are. This is surely magic?", while another said "Amazing update @c2crail. I can now find a seat on the train."
Dozens of Infotec's latest full matrix displays, together with standard as well as bespoke steelwork structures to support them, have been installed on concourses, platforms, at station entrances and in waiting rooms on the c2c network over the past few weeks.
Next train indicators, summary displays, single and double-sided wide aspect displays with clock and small two-line displays are all included in the order, placed with Infotec by Telent.
As well as Upminster, stations to benefit from the new equipment include Barking, East Tilbury, Southend, Thorpe Bay and West Ham.
c2c operates services on the London, Tilbury and Southend Railway line from London Fenchurch Street to the northern Thames Gateway area of southern Essex, including Grays, Leigh-on-Sea and Southend-on-Sea. It is largely a commuter network and so providing real-time, full information to travellers is key to customer service.
As with some other recently placed orders, while the very latest features are all included in the c2c order, the new FM LED displays have been designed to match the footprint of the Infotec P1124 LED displays which preceded them, using yellow LEDs rather than the increasing popular white ones among other matching elements.
This has been done to ensure consistency of appearance across locations, as Infotec supplied P1124s for some of the c2c stations ahead of introducing the FM range.
---
The flexibility of Infotec's displays has helped Southeastern keep football fans updated.
---
White LEDs on the main board are ideal for the modern, brightly backlit concourse at Dundee's relaunched station.
---
Our displays can now be part of the scenery on model railway sets!
---
Very best wishes to our Project Manager Steve Hames who has now retired ...
---
Thanks to everyone for their help during an incredibly busy period!