On-board Pendolino trial
---
Internal and external on-vehicle information displays designed and manufactured by Infotec are being trialled on the Virgin Pendolino.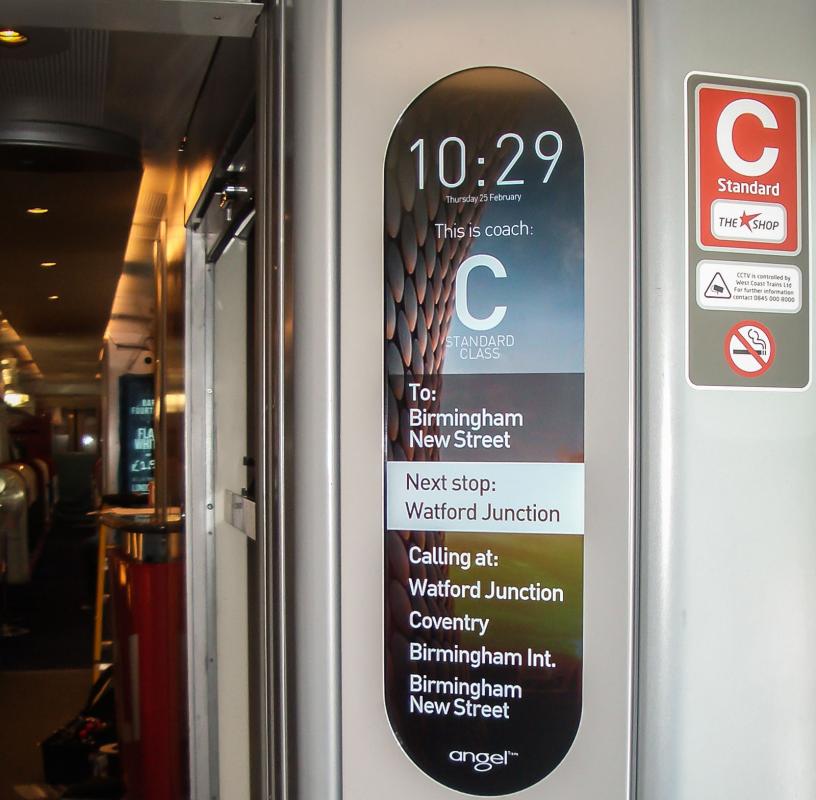 A year-long trial of on-vehicle displays designed and manufactured by Infotec is now underway on Virgin Trains' Pendolino.
Two vestibule VTC29 displays and the VC07 LED external door display are involved in the trial which is being part-financed by Angel Trains.
The internal displays offer real-time information (including the time), final destination and calling point details and, in the case of the external unit, reservation levels within the carriage as well as the time and destination.
The V Series is Infotec's new on-vehicle display range. The series consists of both LED and TFT displays tested to vehicle specification EN50155. Using a modular approach, the designs can be scaled to suit the wide variety of mounting methods that are seen on-vehicle.
The Pendolino trial follows the successful completion of on-vehicle display orders by Infotec for New York City Transit trams and the Vancouver Metro.
Infotec's intimate knowledge of the technology required to guarantee communications and displays work reliably in a variety of challenging conditions ensure the company is well-equipped to design and manufacture on-vehicle displays.
---
Passenger waiting time for destinations to appear on displays has been reduced by changes made to the scripting
---
A questionnaire to which professionals have responded in their dozens has highlighted key areas of interest when it comes to passenger information displays
---
Significant time and effort is invested in creating enclosures that provide ingress protection and installation teams need to pay similar attention to detail
---
Infotec provided its web-based back office system Javelin to allow operators at London Waterloo the ability to filter out details relating to particular platforms. Its ease of use and flexibility makes it the ideal way of keeping passengers fully informed about temporary changes.
---
Ultra-bright eco white LED displays designed and manufactured by Infotec have been installed at Ashton-under-Lyne