Javelin is solution for Waterloo platforms
---
Infotec provided its web-based back office system Javelin to allow operators at London Waterloo the ability to filter out details relating to particular platforms. Its ease of use and flexibility makes it the ideal way of keeping passengers fully informed about temporary changes.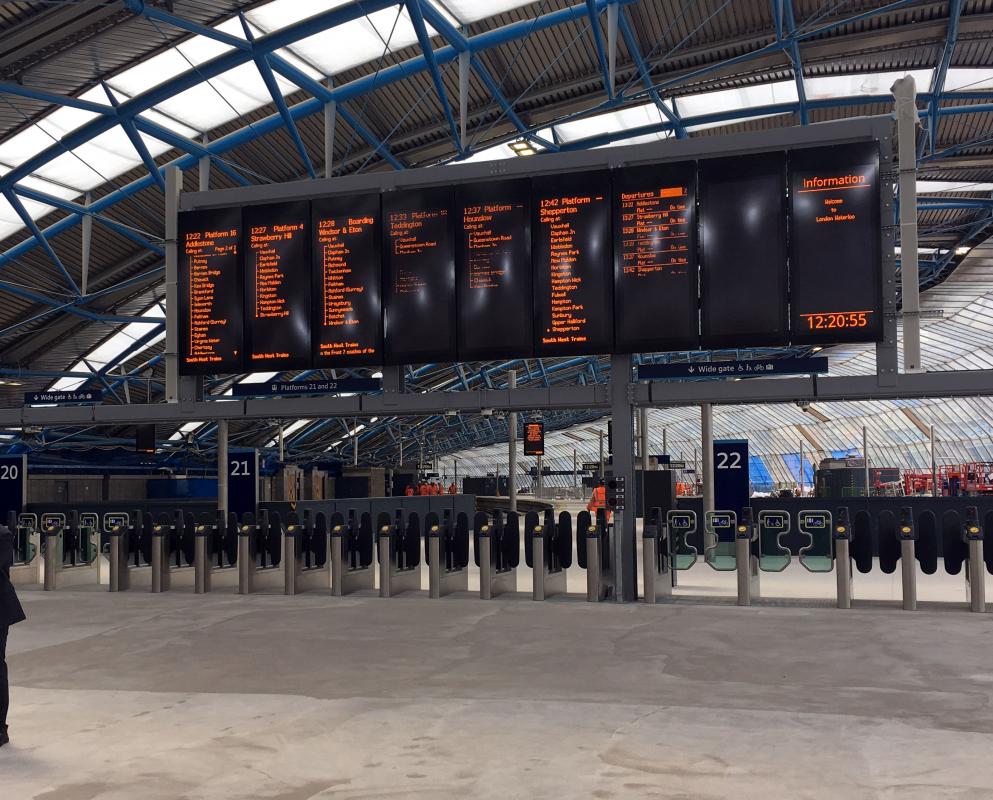 Infotec stepped in with a solution to ensure passengers using platforms 20 to 24 at London's Waterloo station over the holiday period have been provided with information about services running from them.
Engineering works - part of the £800m station overhaul – carried out over the festive/New Year period means that the former Eurostar platforms, 20 to 24, have been used temporarily.
The main passenger information display board, supplied by Infotec as part of a £250,000 order, has kept passengers fully informed about services from these temporary platforms.
Taking the Darwin feed that delivers information to the displays, Infotec provided its web-based back office system Javelin which is quick, easy and flexible to use. This has filtered out the details of the trains using platforms 20 to 24 and presented them on six displays that form part of the main board.
Javelin gives operators the ability to manage their passenger information and advertising assets through a unified graphical user interface (GUI). The assets can be on-station, on-vehicle or even on-line. Assets can be traditional displays (LED or TFT), audio PA equipment, web feeds or user apps. In the case of Waterloo, the assets are large format full matrix LED displays.
A Passenger Focus Waterloo upgrade passenger survey update on journeys made between August 31 and September 5, 2017 when services also temporarily departed from platforms 20 to 24 said that additional information screens "had a clear impact with more passengers waiting by the right platforms". Using Javelin should have helped ensure this has been the case again.
Javelin has been built from the ground up with legacy systems in mind so that the majority of existing passenger information assets can be immediately connected directly to it. Javelin provides a system that melds both the ever-changing technologies and passenger needs with the extensive legacy estates already deployed, by using a future friendly open approach to its architecture, its interface and its data.
The original Waterloo order, for the full matrix main passenger information display board, more than 30 single-sided portrait LED displays and Infotec's Tetrus controller to drive the display range, was placed with Infotec by Fourway Communications for a project by an alliance involving South West Trains-Network Rail Alliance, Skanska, Colas Rail, AECOM and Mott MacDonald.
Completion of the remodelling of Waterloo station, the UK's busiest carrying more than half a million passengers every day and more than 222 million every year, is scheduled for December 2018.
---
Last orders for one of the power supply units used in some LED displays has been extended to the end of January 2019.
---
Stations including Portsmouth Harbour and Walton-on-Thames are to benefit from white LED displays which offer user, environmental and economic advantages over their yellow counterparts.
---
Travellers in London are starting to benefit from deployment of Infotec's new mobile displays.
---
Two more talented travellers have won themselves £100 vouchers by taking photos of Infotec displays in action.
---
Following the success of Infotec in providing on-vehicle passenger information display (PID) solutions for the Vancouver Metro, a third order has been placed.