New arrangement for Lime St
---
The combination and positioning of displays at Liverpool Lime Street is helping to reduce inquiries to station staff.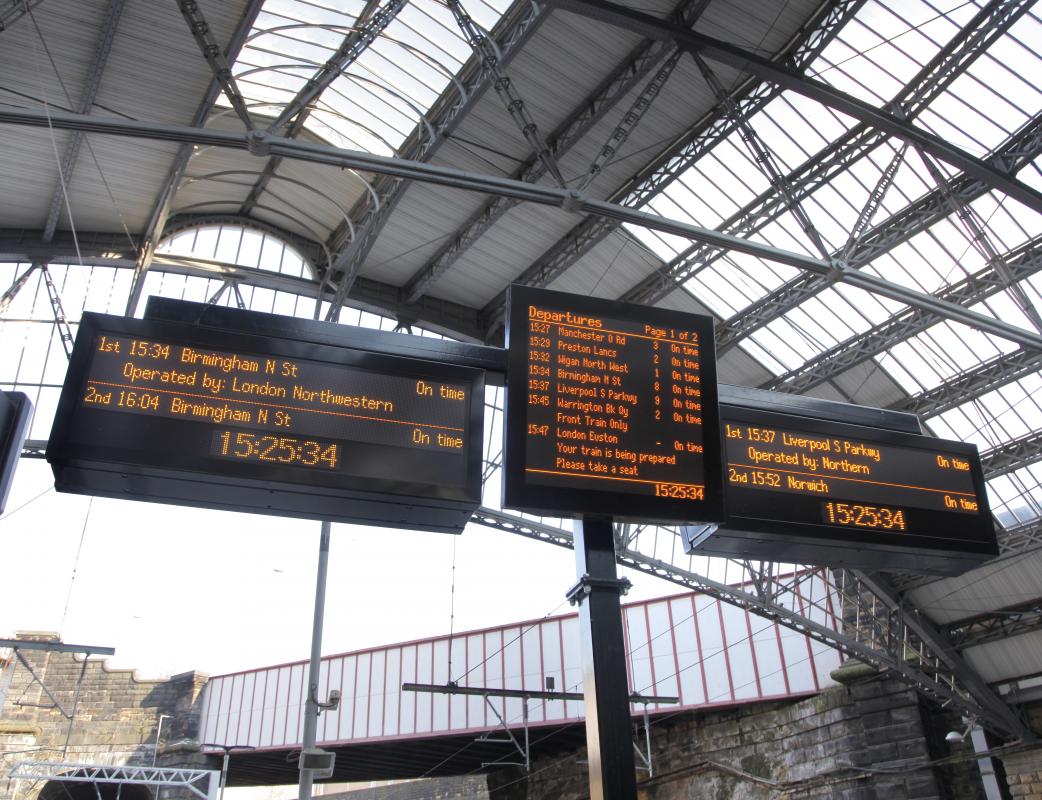 New Infotec information displays installed on platforms 8 and 9 at Liverpool Lime Street station are already helping to reduce inquiries to station staff.
In total, 12 double-sided FM28L and six FM42W LED displays are going to Lime Street which is currently undergoing a £multi-million refurbishment.
Positioned at the ends and mid-points of the platforms, the next train indicators are suspended from each arm of bespoke T posts, designed and supplied by Infotec, with the summary of departures in line with the post centre. The displays are aligned along the bottom edge, achieving the 2.5m clearance required by Network Rail standards.
This is the first time this combination of displays has been arranged in this way.
Yellow LEDs have been chosen for the new full matrix displays to maintain consistency of appearance with the existing main concourse board and other primary displays in the station.
Nearly 20 million passengers pass through Liverpool Lime Street every year and it is forecast that by 2043 the number travelling at peak time through the station will have doubled. The upgrade will create capacity to accommodate this increase.
Dave Pennington, M&E Manager for Lime Street upgrade contractor Buckingham Group, says: "The first of the displays are installed and fully functioning; they have been well received.
"Staff are already saying that the displays stop people from asking them about departures and encourage travellers to move away from the main board; they help with way-finding and pedestrian flow."
The remaining new displays are due to be installed and commissioned over the next few months in line with the project staging. Motion Rail is the appointed sub-contractor responsible for the successful completion of the SISS requirements on this scheme.
These are planned to be fully delivered into service by the end of July 2018.
---
Infotec's gallery has been updated to provide images and basic details about the latest customer information displays.
---
Two members of the Infotec team have successfully completed a workplace first aid course.
---
Last orders for one of the power supply units used in some LED displays has been extended to the end of January 2019.
---
Stations including Portsmouth Harbour and Walton-on-Thames are to benefit from white LED displays which offer user, environmental and economic advantages over their yellow counterparts.
---
Travellers in London are starting to benefit from deployment of Infotec's new mobile displays.