New pages provide product insights
---
New pages added to the Infotec website should help specifiers, buyers and customer information managers to identify the CIS products they want.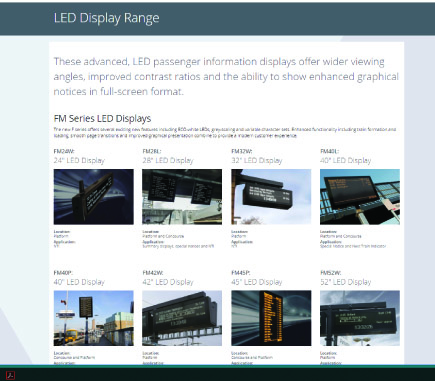 Two new Products Display Range pages have been added to the Products tab on the website of leading passenger information display designer and manufacturer Infotec, to help specifiers and buyers get a quick snapshot of the company's wide range of products and services.
The newly designed pages provide an introduction to the LED and TFT ranges and include images of each model along with details of the station locations and applications to which they are best suited.
Commenting on the update, Infotec's Bids and Key Accounts Manager James Lisney says: "The site has always included introductions to our products and services, but being able to see images of displays and other products in use at stations across the UK and beyond should be a real help to specifiers, buyers and customer information managers.
"It will also help them when it comes to ordering, as they can have all product numbers in front of them."
Feedback on the Products section is welcome. Visitors can comment on our LinkedIn page – Infotec UK Ltd – on twitter @infotecdisplays – or on Facebook @infotecdisplays.
---
Travellers in London are starting to benefit from deployment of Infotec's new mobile displays.
---
Two more talented travellers have won themselves £100 vouchers by taking photos of Infotec displays in action.
---
Following the success of Infotec in providing on-vehicle passenger information display (PID) solutions for the Vancouver Metro, a third order has been placed.
---
New displays at the remodelled Derby station are keeping passengers fully informed and on the move.
---
A new role has been created as the first key part of Infotec's medium and long-term strategies to help the company expand by providing new and exciting products, both in its traditional and in new markets and sectors.