New pages provide product insights
---
New pages added to the Infotec website should help specifiers, buyers and customer information managers to identify the CIS products they want.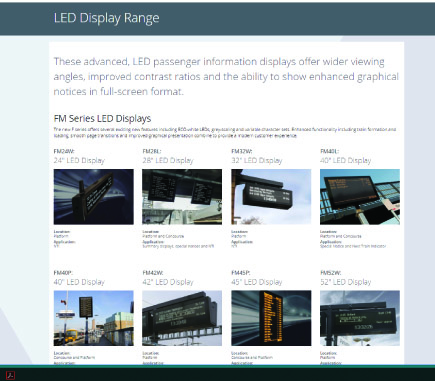 Two new Products Display Range pages have been added to the Products tab on the website of leading passenger information display designer and manufacturer Infotec, to help specifiers and buyers get a quick snapshot of the company's wide range of products and services.
The newly designed pages provide an introduction to the LED and TFT ranges and include images of each model along with details of the station locations and applications to which they are best suited.
Commenting on the update, Infotec's Bids and Key Accounts Manager James Lisney says: "The site has always included introductions to our products and services, but being able to see images of displays and other products in use at stations across the UK and beyond should be a real help to specifiers, buyers and customer information managers.
"It will also help them when it comes to ordering, as they can have all product numbers in front of them."
Feedback on the Products section is welcome. Visitors can comment on our LinkedIn page – Infotec UK Ltd – on twitter @infotecdisplays – or on Facebook @infotecdisplays.
---
It's 20 years since our Bids and Key Accounts Manager joined the company - and things have changed considerably over that time.
---
The latest staff social saw representatives from many departments challenge each other on the golf course.
---
Infotec's latest display is a simple to operate mobile unit that can be used to display everything from train running information to the latest news and social media content.
---
We have produced a simple video tutorial to help show how the Infotec R5 Draw Latch works.
---
From location to standards, there are a number of factors to take into consideration when specifying Passenger Information Displays (PIDs). Here's a quick guide to what should influence decisions ....