Display installation care is vital
---
Significant time and effort is invested in creating enclosures that provide ingress protection and installation teams need to pay similar attention to detail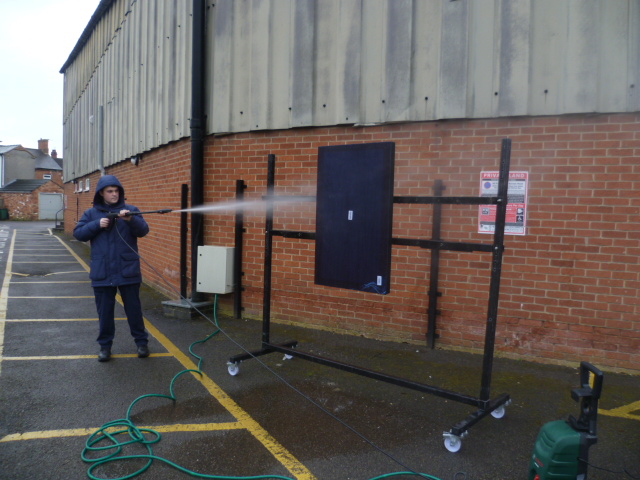 Anyone who has had the unfortunate experience of dropping their mobile phone in water will be aware of the likelihood of irreversible damage. Having said that, a mobile phone is quite small, and a quick search of the web will reveal various potential remedies.
Infotec displays, though relatively large, contain micro-electronic components that are common with mobile technology and which in isolation are no less vulnerable to permanent water damage.
It is for this reason that our design team expends a great deal of time and effort to firstly design rugged display enclosures against the ingress of water, then routinely conduct ingress protection (IP) testing.
This is done both at Infotec's HQ and at appointed test facilities, to demonstrate the successful exclusion of moisture and water ingress under all expected service conditions. This further helps to provide confidence of a long service life for each display we produce.
Our case designs include tight fitting, fully welded case joins, gaskets and drainage guttering on the exterior faces. We also consider the challenges of installation and provide a minimum but adequate number of access points for power and data cabling.
Any other essential parts which pass through exterior display surfaces – main fixing points, antennae and so on, require suitable seals and gaskets, regardless of the display face on which they are fitted.
We then provide installation instructions to re-iterate the requirement for ingress protection, though there can be continuing potential risks on site unless the equipment installation is completed correctly.
In the unwelcome event that water does accidentally enter a display but dependant very little on the extent and duration of ingress, damage caused to the electronics is often extensive and permanent.
The contamination in rainwater, especially in a construction environment, is variable and more importantly the display is too large to remove and dry under controlled conditions. Corrosion of exposed metallic parts will commence almost instantly (rust never sleeps).
We urge installers to be aware that whilst our displays are intrinsically designed to be sealed from water ingress, once in position on site, water can sometimes enter the display as a result of the installation process itself, so continuing attention is required until all installation work is completed.
Installers with any questions are welcome to contact sales@infotec.co.uk
Photo shows testing in progress.
---
Infotec displays in Birmingham New Street served as a great catwalk backdrop!
---
Innovative Infotec customer information systems (CIS) play an important role in top stations
---
Internal and external on-vehicle information displays designed and manufactured by Infotec are being trialled on the Virgin Pendolino.
---
Passenger information displays at Birmngham New Street have been upgraded to provide travellers with more details including arrival times at destinations on route and reservation levels in the carriages.
---
Infotec is proud to be a sponsor of the TransCityRail North event taking place in Manchester in October.