Dual language displays for TfW
---
Dozens of Infotec displays have been introduced at Swansea as part of the Transport for Wales (TfW) 'Station Improvement Vision'.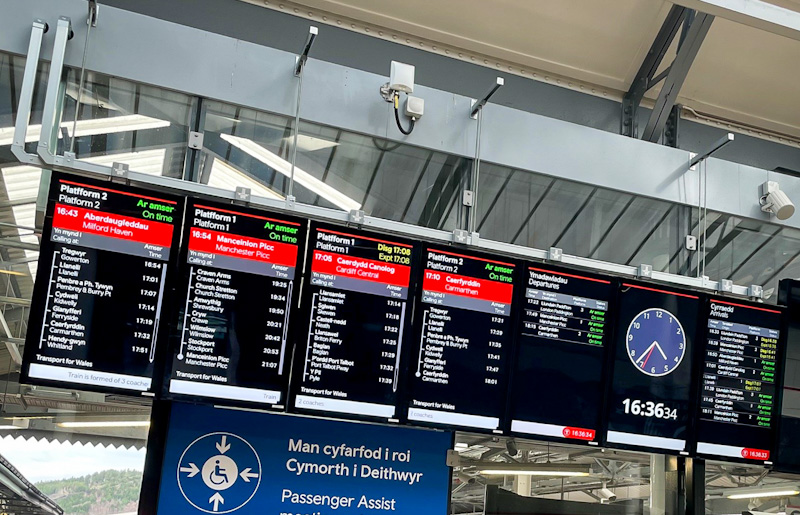 New Infotec displays installed at Swansea station are presenting information in both Welsh and English, helping to meet the Welsh Government's commitment to dual language presentation throughout Wales.
Dozens of these displays have been introduced at the station as part of the Transport for Wales (TfW) 'Station Improvement Vision', aimed at upgrading customer facilities.
They include several models from the latest TX Series of sunlight readable TFTs, designed for showing priority next train information, special notices, departure summaries and operational/disruption information in bright or outdoor locations.
The TX Series includes native HiTNi extended temperature and optically bonded TFT panels to ensure the best legibility in a variety of conditions as well as assisting with Infotec's superior heat management.
The Swansea concourse now has a beautiful high-definition span of TFT displays including a media screen connected to Infotec's Javelin system to provide enhanced information to passengers on entering the station.
Stretched TS Series TFT displays provided for the ticket office windows deliver instant status details. Staff can manually update these displays using small control boxes engineered as part of the order by Infotec.
Also supplied have been other smaller format TFTs for staff and public waiting areas as well as a GSM-enabled mobile display to provide information about disruption and special events wherever needed.
Critical to the crisp, clear presentation and smooth transitions and scrolling text of all the Swansea displays is Infotec's high-performance Tetrus computer-engine.
The dedicated controller was designed from the ground up to incorporate the latest software and graphical interfaces. Tetrus is at the heart of the new Swansea displays, ready to meet the ever-increasing demands of the information age and providing the contemporary presentation TfW was seeking.
Infotec engineers have visited Swansea station since the displays were installed and station staff and travellers alike expressed how pleased they were with the upgrades.
---
Clients enjoy significant benefits as a result of Infotec being an Original Equipment Manufacturer (OEM)
---
Millions of people will benefit from the innovative passenger information displays designed and manufactured for this project by Infotec.
---
Infotec has now been operating for 30 years, maintaining a dedication to manufacturing excellence.
---
New displays are helping with passenger management and enhancing the customer experience.
---
High contrast Eco-white LED displays ensure a minimum of ten years of operation, up to 30% less power consumption and improved contrast.