Cyber secure
---
Infotec has demonstrated its commitment to cyber security with customers and other interested parties.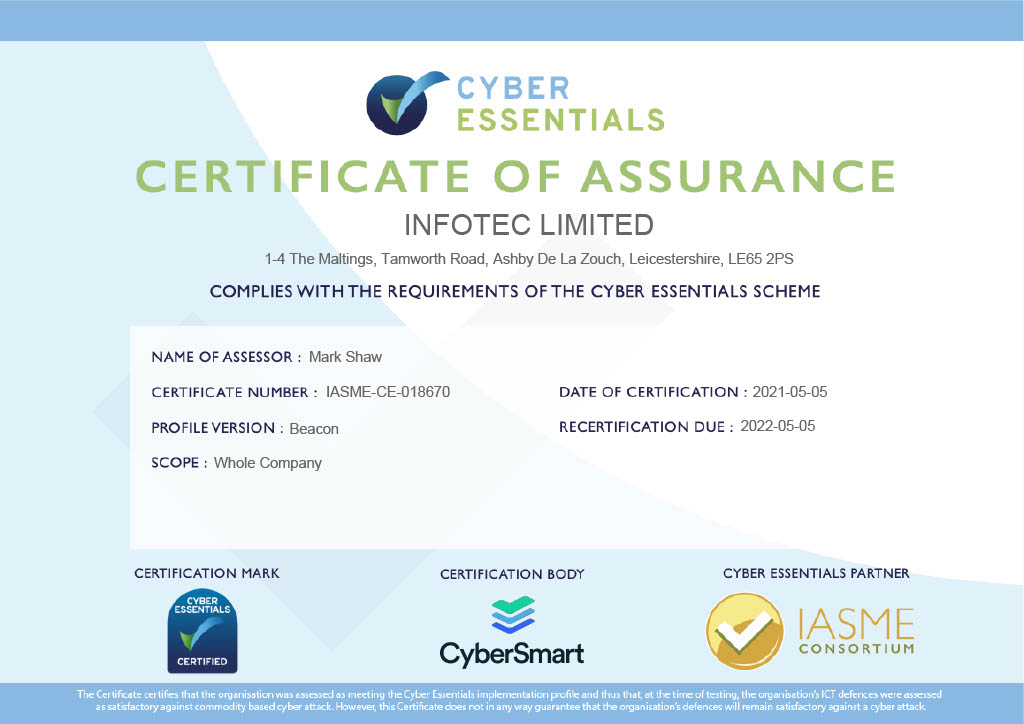 Infotec is pleased to announce its achievement of the Cyber Essentials Assurance Certification award.
Cyber Essentials is a Government-backed information technology certification scheme. It includes important actions around the management and security of IT equipment and services essential for Infotec to assure protection from cyberattack and misuse of our critical business data.
Led by Chief Operating Officer Neil Scott, Infotec commenced a programme of work across the business several months ago; this required an initial server and firewall upgrade then a detailed survey of all IT assets as used by each employee.
All network access points are now encrypted to eliminate unauthorised and monitored dark web access.
Domain Name System (DNS) protection provides an additional layer of security between our employees and the Internet by blacklisting dangerous sites and filtering out unwanted content to avoid unnecessary further risk and the potential for malicious attack.
All validated Infotec account users are enabled using Multi-factor authentication; this is also linked to other network enabled devices being used.
Research has demonstrated companies implementing an independently certificated Cyber Essentials scheme can reduce cyber risk by up to 98.5%. In this way Infotec is demonstrating its commitment to cyber security with customers and other interested parties.
Infotec also acknowledges the support provided by its long-established and excellent external provider, Nottingham-based Your IT, in this successful outcome.
---
Clients enjoy significant benefits as a result of Infotec being an Original Equipment Manufacturer (OEM)
---
Millions of people will benefit from the innovative passenger information displays designed and manufactured for this project by Infotec.
---
Infotec has now been operating for 30 years, maintaining a dedication to manufacturing excellence.
---
New displays are helping with passenger management and enhancing the customer experience.
---
High contrast Eco-white LED displays ensure a minimum of ten years of operation, up to 30% less power consumption and improved contrast.