Mainboards – an evolving story
---
It's more than 20 years since Infotec designed, manufactured and installed its first mainboard. We take a look at how they have changed since then.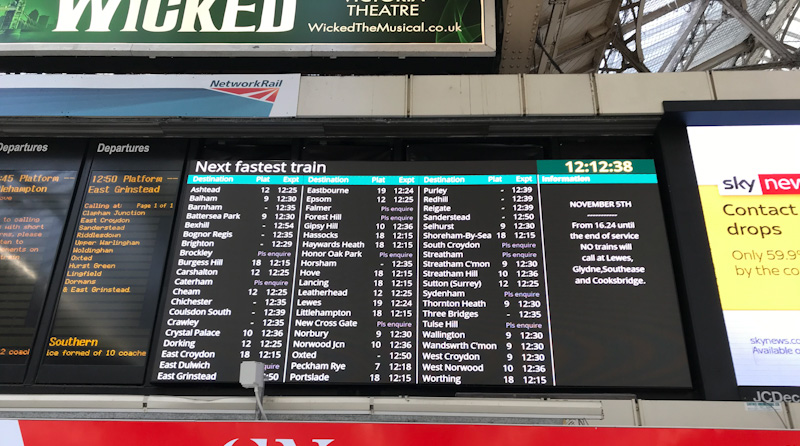 Passenger information mainboards are the focal point of station concourses; they are critical to customer satisfaction and to passenger management.
Infotec designed, manufactured and installed its first mainboard over 20 years ago. Since then, mainboards have evolved, in terms of how they look, the technology used, and the nature of information delivered.
Stations for which Infotec has provided mainboards include Aberdeen, Birmingham New Street, Blackfriars, Bristol Temple Meads, Cannon Street, Charing Cross, City Thameslink, Clapham Junction, Derby, Dundee, Edinburgh Waverley, Euston, Gatwick, Glasgow Central, Glasgow Queen Street, Inverness, King's Cross, Leeds, Liverpool Lime Street, London Bridge, London Liverpool Street, Manchester Airport, Manchester Piccadilly, Milton Keynes, Newcastle, Oxford, Paddington, Perth, Reading, Sheffield, St Pancras International, Victoria, Waterloo and Watford.
There have been four main stages in the evolution of mainboards – amber LED, LCD, white LED and RGB LED.
Euston became one of the first major stations to use Infotec LED display technology for its mainboard. Infotec worked with ATOS Origin to implement a new text-based protocol (EDF) generated by its control system. EDF uses very little bandwidth as it contains no presentation information; the displays take care of this locally. This protocol and its method became the de facto standard method of driving displays in the UK rail industry.
Next came LCD. In 2005 Infotec was awarded the contract to design, manufacture, supply and commission a large number of bespoke LCD displays for the redeveloped St Pancras Station. They included mainboards for both the Midland Mainline platforms and the source market area.
This mainboard was completely different from any done previously. It featured German AEG glass to create white lettering on a dark blue background; complementing the overall concept of light, space and brightness architects ARUP were looking for in the world-class terminal.
2018 saw the introduction of Infotec's first ever white LED mainboard, installed at Dundee. When originally available, white LEDs cost £1 per individual unit, but by the time Dundee was installed, the cost had fallen dramatically, making them financially far more viable. Also, the SMT technology used provided a much more reliable and uniform colour.
At Dundee station, the location for the displays was very brightly backlit. For this reason, Infotec advised that white LED was the right choice. The displays are brighter and higher in contrast and can be read very easily, even in these unusual backlit conditions.
In addition to clarity, the advantages of white LEDs include the fact that they have a 30% lower power requirement than yellow LEDs, adding environmental bonuses.
Today Infotec continues to supply a range of mainboards, but the very latest are RGB LEDs, featuring colour LEDs. Autumn 2020 saw Infotec design and manufacture Britain's largest and clearest single passenger information display: a 12-metre-square unit which uses full colour, high-definition LED technology, created for London Victoria, as well as a smaller format version for London Waterloo.
These latest displays are controlled by Infotec's own CMS system, Javelin, and data is provided directly by Worldline via IoT/MQTT using Infotec Apion Smart Broker technology. This allows station operation teams to manage a multitude of features for the presentation of differing data and templates to handle a variety of operational scenarios.
By staying ahead with technology and using it to provide the best possible sustainable solutions for clients, Infotec continues to design, manufacture and install station mainboards that meet needs and expectations at realistic costs.
It will be interesting to see what the next 20 years bring …
---
Clients enjoy significant benefits as a result of Infotec being an Original Equipment Manufacturer (OEM)
---
Millions of people will benefit from the innovative passenger information displays designed and manufactured for this project by Infotec.
---
Infotec has now been operating for 30 years, maintaining a dedication to manufacturing excellence.
---
New displays are helping with passenger management and enhancing the customer experience.
---
High contrast Eco-white LED displays ensure a minimum of ten years of operation, up to 30% less power consumption and improved contrast.