Accurate information for staff
---
A unique Infotec system gives South Western Railway (SWR) station staff more detailed train movement information.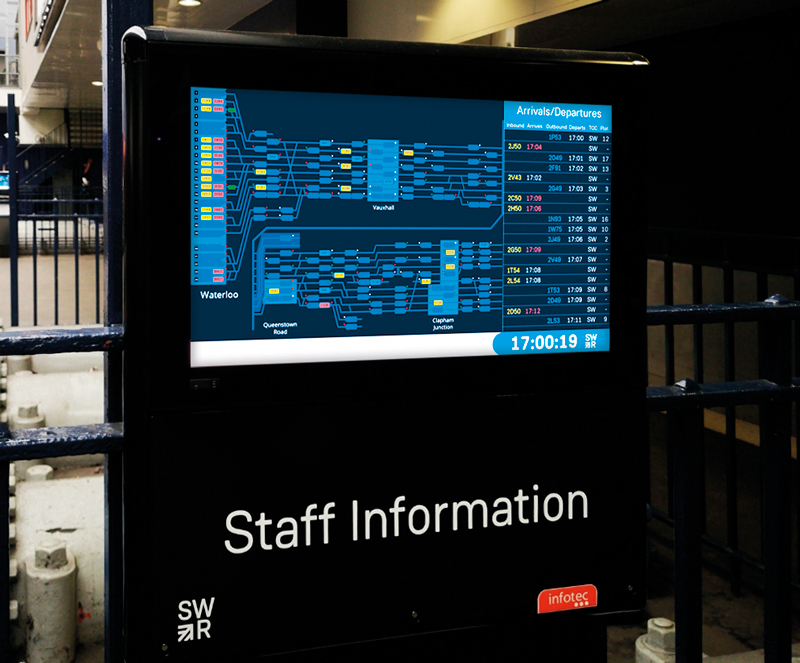 Passengers at London Waterloo Station, like any other complex station, often rely on the station staff for detailed information about train arrivals and departures. This information, whilst comprehensively available in the control room, was not quickly accessible to staff where it was needed – on the platforms.
Hence to keep the travelling public better informed, South Western Railway (SWR) needed to make sure its station staff had more accurate information about train movements.
Much of the passenger information at Waterloo is already provided by Infotec displays and systems, so SWR approached the Leicestershire-based company to see if it could provide additional local detailed train movement information on a series of displays around the station.
Infotec was able to offer a solution using its Javelin-DMS system, and a series of standard TFT displays which it manufactures.
Javelin-DMS is a cloud-based software application, designed and developed by Infotec. It has built-in capabilities to collect data, in a simple manner, from numerous industry standard sources of train running information.
Flexible
However, in this case, the level of detail required was not available from these usual sources. The Javelin-DMS software was written to be very flexible and so it was only necessary to get the data directly from Network Rail's signalling systems by using NWR's real-time td.net system. Working with opentraintimes.com, a unique nationwide API was developed so that the Javelin-DMS software was able to query any of the berths of interest to ascertain the detailed train movements at relevant stations.
This train movement data was then gathered, filtered and put into Infotec's standard data protocol and finally sent to the 10 Infotec TFT displays (TP21L-OH) installed at Waterloo, situated on the platforms behind the barrier line.
A Javelin-DMS client application runs on each display, irrespective of its type or size, and this client application formats the received data to a specially developed presentation master which shows all train movements on a visualisation of the track layout at Waterloo.
This presentation arrangement was designed by Infotec to closely resemble the layouts, well known to the staff, shown on the Control Room systems.
The project was delivered on time and on budget, using Javelin-DMS and its exceptional ability to manage, monitor and control the world-class Infotec displays deployed.
The improved information has been welcomed by the SWR staff at Waterloo as it enables them to better inform travelling public, reducing their frustration and improving the level of service provided by SWR.
---
Travellers arriving at Euston station's new taxi rank instantly know which platform to head for and how long they have to get there, thanks to new displays designed and manufactured by Infotec and managed using its Javelin-DMS back office system.
---
The appointment of a new Sales Project Engineer is the latest step in Infotec's medium and long-term strategies to expand by developing new products and services.
---
Visitors to our stand at Railtex 2019 had the chance to see the latest systems available, developed by Infotec to provide solutions to passenger management and customer satisfaction needs.
---
A unique Infotec system gives South Western Railway (SWR) station staff more detailed train movement information.
---
Travellers going to the Isle of Wight can now find real-time information about rail, bus, hoverbus and flights in single displays.