Cutting edge TFTs for East Midlands Trains
---
Several new features and requirements have been incorporated by Infotec into its latest TFT displays for the overbridge at Derby station for East Midlands Trains.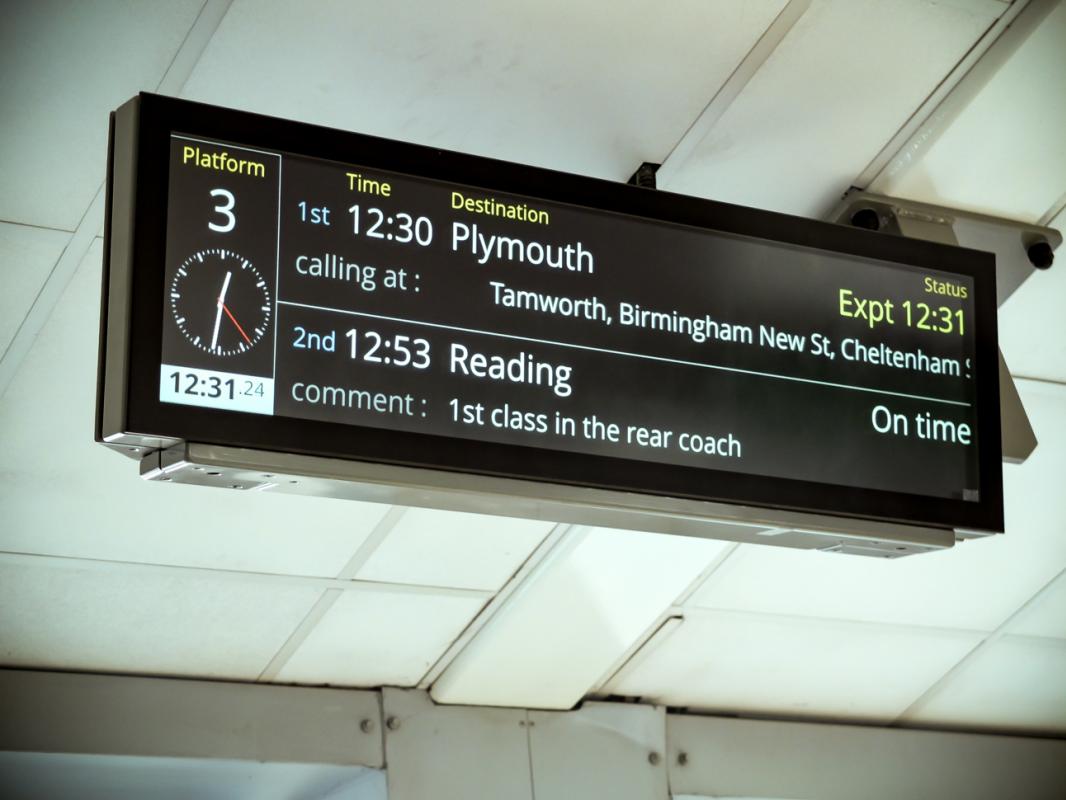 Hi-tech TR38L-H wide format TFT screens have been used to allow the units to be positioned closer to the platform entrances. Infotec has also produced new scripts for the displays that allow for a more modern appearance with platform indicators and analogue clocks provided in addition to standard three-line next train/destination details.
The displays also needed a new approach in terms of the brackets to support them, both as a result of the display width and the need to achieve 2.5m height clearance on a slopping ceiling.
To accommodate these factors, Senior Project Engineer Kevin Hancock has created a design that allows the display to rotate, thus allowing an infinite possibility of viewing angles.
More importantly this enables the operator to fine tune viewing angle position, which in turn helps determine where members of the public stand to view, keeping them away from the platform staircases and in a more suitable central location on the overbridge.
Passengers who do stand to view the displays will appreciate the smooth way the details all scroll.
Infotec's new displays for East Midlands trains help the client to manage passenger movement in the station and to provide a high-quality service to customers.
---
Passenger information displays at Birmngham New Street have been upgraded to provide travellers with more details including arrival times at destinations on route and reservation levels in the carriages.
---
Infotec is proud to be a sponsor of the TransCityRail North event taking place in Manchester in October.
---
Detailed information on CIS for c2c is proving useful to the travelling public.
---
New full matrix boards for Waterloo with advanced functionality and smooth transtions demonstrate that our latest displays link perfectly with ones we produced in the past, ensuring consistency of appearance throughout the station
---
Abellio ScotRail stations including the one said to be the most remote in the British Isles are getting full-matrix displays, with almost two dozen 3G enabled.