Innovative shelter displays for Northern
---
New-look displays that deliver train running information, summary details and show the time in two formats are going into operation at Northern stations.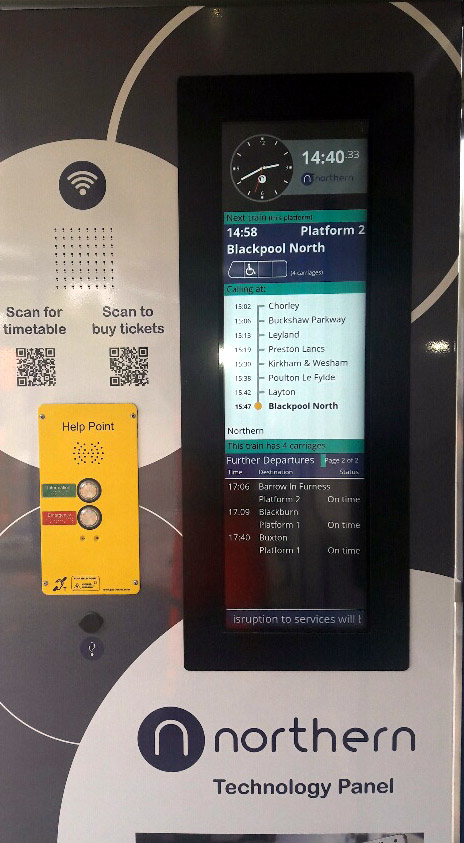 The first of dozens of innovative TFT rail passenger information displays designed and manufactured by Infotec for installation in shelters at Northern stations are now in use.
The 38" screens deliver train running information, summary details and show the time in two formats. The design has been further enhanced by the fact that additional content such as special notices can be added if required.
Matt Clarke, Control Communications Manager for Northern, explains the brief he presented to Infotec: "I wanted a display that combined summary with next train running information. Something that was using existing display technology but was colourful.
"Items like two versions of the clock just worked for me, it's aesthetically pleasing and the fact that we could add other items like the rainbow boards for Northern services across the network and special notices that don't interfere with train running information is a real bonus.
"I am very pleased and proud of the results."
Infotec Managing Director Tim Court says: "We are delighted that everyone is happy with the displays. The design is proof of our ability to respond to customer needs, to be flexible and to deliver innovative solutions."
In addition to the displays themselves, Infotec has designed and engineered the black lightweight aluminium casings in which they are being mounted in Macemain shelters.
Stations at which they are being installed have been selected as they have not previously had train running information available to passengers. The locations include Ansdell & Fairhaven, Chinley, Hapton, Moss Side and Parton. The first to be installed, at Cattal in North Yorkshire, is now in operation.
Approximately 50 of the new BS38Ps will be deployed across the Northern franchise, with doubled-sided LED displays also being provided by Infotec for several larger Northern stations.
---
Last orders for one of the power supply units used in some LED displays must be placed by December 21.
---
Stations including Portsmouth Harbour and Walton-on-Thames are to benefit from white LED displays which offer user, environmental and economic advantages over their yellow counterparts.
---
Travellers in London are starting to benefit from deployment of Infotec's new mobile displays.
---
Two more talented travellers have won themselves £100 vouchers by taking photos of Infotec displays in action.
---
Following the success of Infotec in providing on-vehicle passenger information display (PID) solutions for the Vancouver Metro, a third order has been placed.