Innovative solutions for Manchester Piccadilly
---
A Manchester Piccadilly project on which we're nearing completion will see a huge RGB LED which includes innovative wayfinding information and staff TFT displays installed.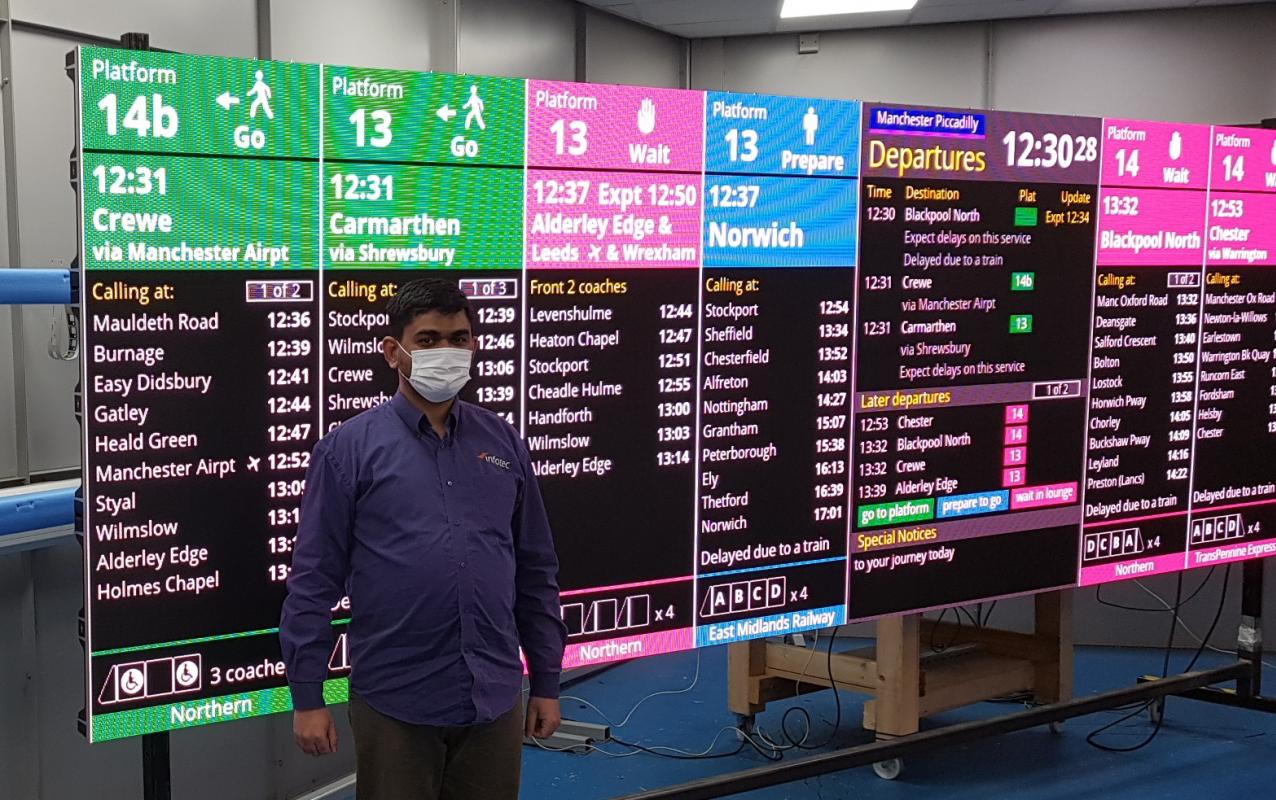 Following another successful Factory Acceptance Test (FAT), our latest RGB LED mainboard technology will be installed next month at Manchester Piccadilly.
The large 6m RGB LED display incorporates innovative wayfinding and additional information features to help manage passengers in a very challenging area of the station.
Introducing the display to the waiting lounge that serves platforms 13 and 14 was the inspiration of Station Manager Scott Green and his team, and is another great example of what we all can achieve through enthusiastic collaboration.
The display manipulates existing data delivered by the Worldline CIS system and re-utilises the existing low bandwidth data network. A secure 4G connection is used to manipulate the additional content on the display using Infotec's Javelin back office system.
As well as the RGB, the Manchester Piccadilly project includes several staff TFT displays strategically located around the station showing intuitive maps that keep staff better informed with real time train position information.
All the displays use Infotec's latest GSM technology and implement a subset of Apion Infotec's publisher/subscriber data model.
This is one of a number of RGB displays that will be installed at various UK locations in the coming months.
---
A comprehensive day-long audit has seen Infotec retain the important international ISO 9001 standard that it has held since 2007.
---
Infotec's quality audit team has successfully conducted several detailed internal audits to ensure we continue to meet customer needs and maintain high standards.
---
Infotec has designed and manufactured displays for the Elizabeth line including ones with new controller electronics that show different content from a single incoming interface.
---
A CIS maintenance training course for delegates from Network Rail in Scotland has generated postive feedback.
---
Infotec is committed to high standards of environmental compliance from design through to end of life disposal and a recent audit has verified its success.