Station transformation praised
---
A new 6m full colour LED mainboard at Manchester Piccadilly is part of a turnkey project which also includes staff information displays and every aspect of the work from site surveys to installation taken care of by Infotec.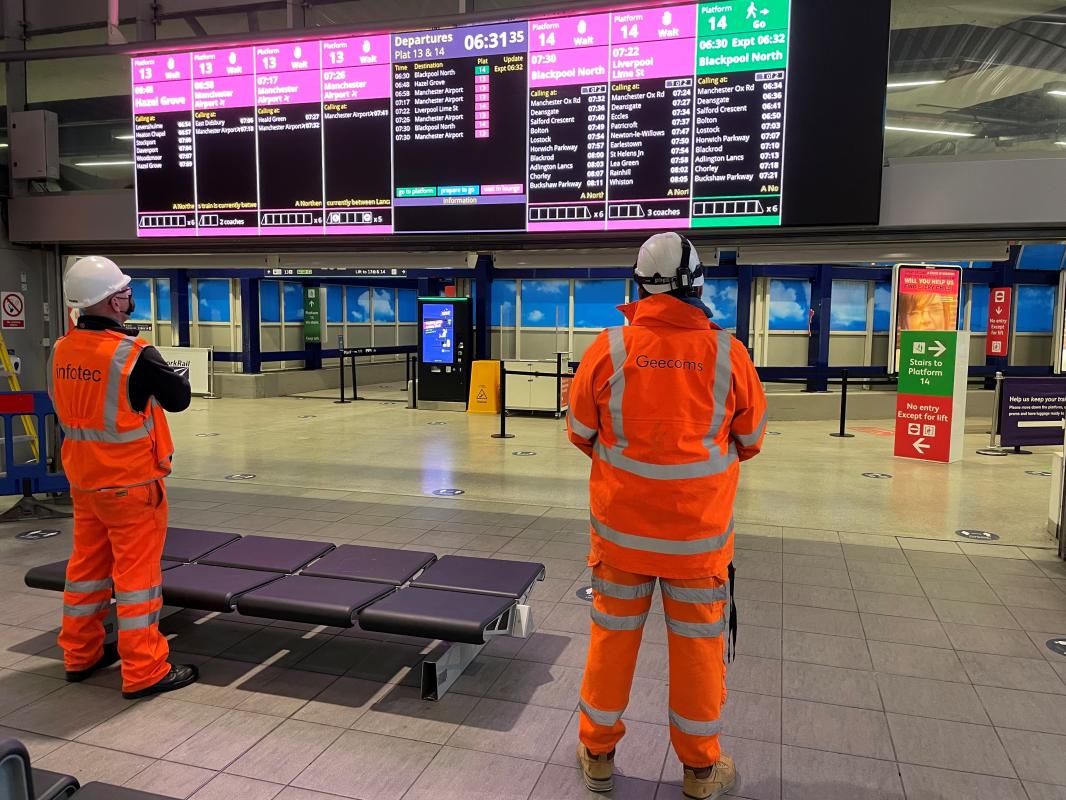 A new full colour 6m LED Infotec passenger information mainboard now installed in the lounge on platforms 13 and 14 at Manchester Piccadilly has been praised by station staff.
"It's AMAZING!! We love it. Can't tell you how pleased we are," said Margaret Edge, Station Control Manager for Network Rail at Piccadilly.
The full colour board is part of a turnkey project which has also seen railway staff information displays installed on the platforms and every aspect of the work from site surveys to installation taken care of by passenger information system specialist Infotec.
In normal times, up to 40,000 people use the two through platforms each day, which means they can get heavily congested during rush hour periods. It was this that led to Network Rail deciding to manage them separately from the rest of Piccadilly and treat them as a 'satellite station', to improve peak times for passengers.
Several changes have been made, the latest of which is the installation of the new displays. Customer Information Screens in the airport style satellite lounge and the introduction of station staff map information screens on the platforms.
Infotec was approached to work with the Piccadilly team to plan, design, manufacture and install new displays that could play a significant role in managing passenger flows in the 'station within a station'.
This week (w/c March 15) has seen the culmination of that concept to completion project, with installation and going live of all the new displays.
Infotec's teams have managed and been actively involved in every stage of the work, including site surveys, structural engineering, software and animation design, data delivery, map design, scripting and installation with our expert install partners Gee communications from Cardiff.
The RGB LED display incorporates innovative wayfinding and additional information features to help manage passengers in a particularly challenging area of the station. It is colour-coded, informing passengers whether to wait in the lounge, prepare to move or go to the platform.

Introducing the display to the waiting lounge was the inspiration of Station Manager Scott Green. The display manipulates existing data delivered by the Worldline CIS system and re-utilises the existing low bandwidth data network. A secure 4G connection is used to manipulate the additional content on the display using Infotec's Javelin back-office system.

The staff TFT displays have been strategically located and show intuitive maps that keep staff better informed with real time train position information.

All the displays use Infotec's latest 4G technology and implement a subset of Apion, Infotec's publisher/subscriber data model.
While both RGB LED displays and staff TFTs have been provided for other stations, each is developed specifically for the client concerned, taking advantage of Infotec's in-house expertise and ability to create bespoke solutions.
The Manchester RGB is one of a number of these that will be installed at various UK locations in the coming months.
---
Clients enjoy significant benefits as a result of Infotec being an Original Equipment Manufacturer (OEM)
---
Millions of people will benefit from the innovative passenger information displays designed and manufactured for this project by Infotec.
---
Infotec has now been operating for 30 years, maintaining a dedication to manufacturing excellence.
---
New displays are helping with passenger management and enhancing the customer experience.
---
High contrast Eco-white LED displays ensure a minimum of ten years of operation, up to 30% less power consumption and improved contrast.