RGBs deliver unique presentations
---
Infotec's striking RGB displays, now in three major stations, use our latest tsPlayer software for flexible and adaptive presentations.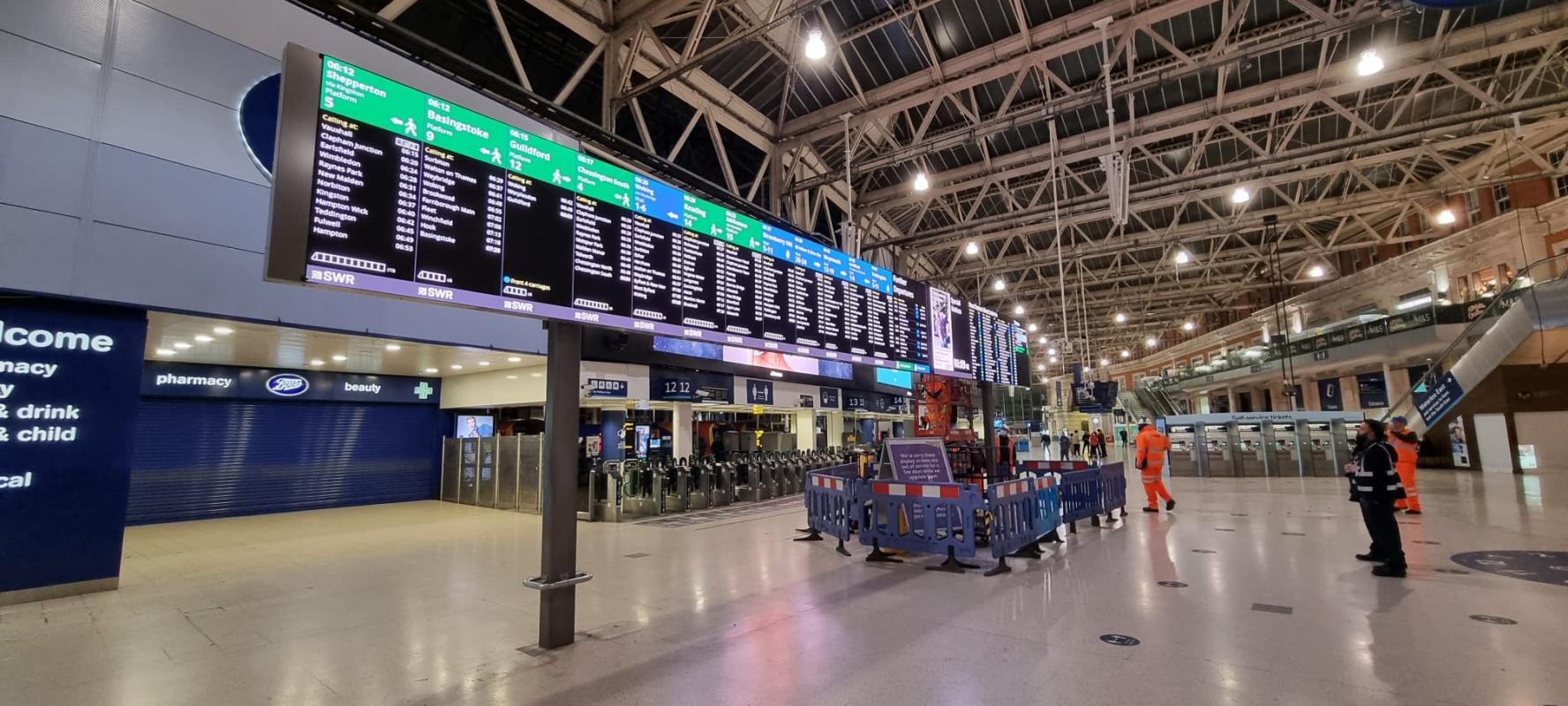 Striking RGB LED passenger information display boards designed and manufactured by Infotec are now installed and running successfully in three major locations – Manchester Piccadilly, London Waterloo and London Victoria.
The very latest technology that the displays use enables them to deliver unique presentations, capable of including colourful graphics and video content alongside train operating details.
At Manchester Piccadilly, an RGB LED mainboard has been installed in the lounge on platforms 13 and 14. The display incorporates innovative wayfinding and additional information features to help manage passengers in this particularly challenging area of the station. It is colour-coded, informing passengers whether to wait in the lounge, prepare to move or go to the platform.
The RGB at London Waterloo measures 14m in width. It has been mounted onto the existing framework following the addition of strengthening steelwork to prevent deflection. Extensive site surveys and civil engineering by Infotec and partners made this environmentally friendly approach possible.
The largest RGB LED to date has been installed at London Victoria. A massive 21m in length, like its predecessors in Manchester and at Waterloo, it has transformed the customer experience in the station.
The tsPRO software, specifically developed by Infotec, allows station operations teams to change the format of the RGB displays at the touch of a button, reacting to the current operational status at the station.
The displays are made up of a line of LED video wall tiles in 1.5 and 1.9mm pixel pitches. They feature a patented carbon fibre construction that makes them extremely lightweight, thin and strong.
Their mechanical construction means they can be quickly installed, minimising passenger disruption.
The reaction to them has been overwhelming, with station users saying they make "a positive impact on the customer experience" and senior rail sector staff describing the open application capability of the displays as a "game changer".
---
Infotec is excited to announce the arrival of the new IPH4, an innovative third generation server we have developed that offers advanced features and advantages over its IPH3 predecessors.
---
A full range of Infotec assets have been deployed in Cardiff to provide clear, detailed information on the main concourse, on every platform, in waiting areas, subways and outdoors.
---
Clients enjoy significant benefits as a result of Infotec being an Original Equipment Manufacturer (OEM)
---
Millions of people will benefit from the innovative passenger information displays designed and manufactured for this project by Infotec.
---
Infotec has now been operating for 30 years, maintaining a dedication to manufacturing excellence.