A significant milestone
---
Infotec has now been operating for 30 years, maintaining a dedication to manufacturing excellence.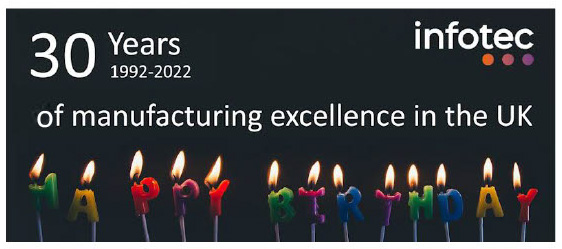 This week we celebrate Infotec's 30th birthday. It was on April 6, 1992, that we became "incorporated", or in other words formed into a legal corporation.
It will surprise many to learn that in the early days it wasn't passenger information systems that Infotec designed and manufactured. The first job back in 1992 was software data capture for the Shelton Bar steelworks in Stoke-on-Trent.
1993 saw clear foundations for some of the practices we use today laid when the philosophy of reusable hardware and software components was introduced, and we developed our internal multi-tasking kernel to provide real-time performance.
Infotec's first rail-related work took place in 1996, with Jubilee Line clocks being manufactured - alongside petrol pump displays and oven clocks. At this point Infotec had 10 staff.
The white goods oven timer project leads us to Crosslee PLC in Halifax, at the time Europe's largest manufacturer of tumble dryers. Infotec designed and developed a controller for intelligent tumble dryers. This led to investment in high volume manufacturing.
The process of developing and manufacturing for this competitive and very price sensitive market is still part of Infotec's culture today. If it is not needed in the design, don't put it in.
1999 saw us introduce a unique method to drive LED displays that enabled the creation of LED displays that were modular and easy to reconfigure into different shapes and sizes. We have since developed and manufactured over 13,000 displays using this technology.
Since the 1990s Infotec has dedicated itself to the design, manufacture and support of electronic passenger information displays and their associated products and systems. This dedication has led to the continuous redevelopment of its products to meet the evolving needs of customers.
Today, Infotec is the UK's number one designer and manufacturer of passenger information displays and has a growing overseas market. This is only made possible by our amazing staff, our suppliers, partners and, of course, our clients.
Here's to the next 30 years!
---
Infotec is excited to announce the arrival of the new IPH4, an innovative third generation server we have developed that offers advanced features and advantages over its IPH3 predecessors.
---
A full range of Infotec assets have been deployed in Cardiff to provide clear, detailed information on the main concourse, on every platform, in waiting areas, subways and outdoors.
---
Clients enjoy significant benefits as a result of Infotec being an Original Equipment Manufacturer (OEM)
---
Millions of people will benefit from the innovative passenger information displays designed and manufactured for this project by Infotec.
---
Infotec has now been operating for 30 years, maintaining a dedication to manufacturing excellence.