Elizabeth line congratulations
---
Millions of people will benefit from the innovative passenger information displays designed and manufactured for this project by Infotec.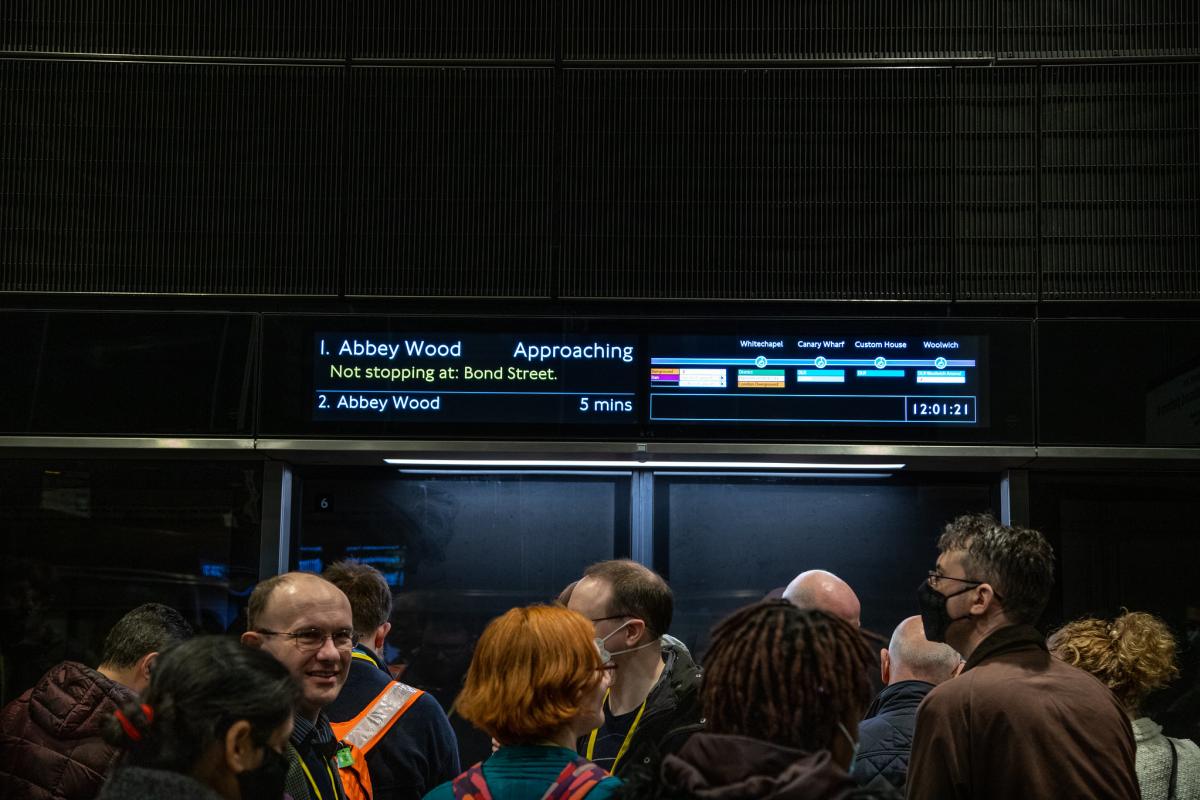 Infotec is delighted to see the central section of the Elizabeth line – expected to serve around 200 million people a year - now open, adding nine new stations to the Transport for London (TfL) network and reducing journey times between popular destinations in the Capital.
While each of the stations has been designed individually by different architects, to provide a consistent passenger experience, the platform areas all have the same features, including innovative passenger information displays designed and manufactured in the UK by Infotec.
Floor to ceiling platform screen doors have been installed at eight of the central sub-surface stations and include display screens that show next train running information alongside maps, to help passengers find their way quickly and easily.
New controller electronics were designed and manufactured by Infotec to enable the two screens that make up each display to show different content from a single incoming interface.
The controller also monitors the system's health, working to ensure the displays operate correctly, 24 hours a day, seven days a week.
Infotec was awarded the contract for these displays by Siemens Mobility Limited, as well as for other station display screens.
As part of the Crossrail programme, Siemens Mobility has responsibility for providing highly complex communication, control and signalling systems. In addition to the passenger information screens supplied by Infotec, this also includes a communications-based train control system (CBTC) for the central section of the line.
Research and development work by Infotec's in-house mechanical engineers in Leicestershire to create the panels to house the displays has delivered some exciting innovations.
To hold the displays, a casing almost 2m in length was required and Infotec engineers designed the tooling needed, carefully selecting a supplier capable of handling the wide extrusion needed as part of the process.
Also developed was a bespoke spring clip to attach the glass to the screen door. After creating a few handmade prototypes using 3D printing technology, the Infotec team achieved a final successful design.
Infotec congratulates everyone involved in this huge project, and is proud to be one of the 62% of suppliers to Crossrail based outside London and among the 62% of Tier 1 (72% of Tier 2) suppliers that is a small and medium-sized enterprise (SME).1
1Crossrail. 2022. Suppliers. [online] Available at: <https://www.crossrail.co.uk/benefits/economic-sustainability/suppliers/> [Accessed 19 May 2022].
---
Infotec is excited to announce the arrival of the new IPH4, an innovative third generation server we have developed that offers advanced features and advantages over its IPH3 predecessors.
---
A full range of Infotec assets have been deployed in Cardiff to provide clear, detailed information on the main concourse, on every platform, in waiting areas, subways and outdoors.
---
Clients enjoy significant benefits as a result of Infotec being an Original Equipment Manufacturer (OEM)
---
Millions of people will benefit from the innovative passenger information displays designed and manufactured for this project by Infotec.
---
Infotec has now been operating for 30 years, maintaining a dedication to manufacturing excellence.