How an OEM meets the challenge of a broken global supply chain
---
Clients enjoy significant benefits as a result of Infotec being an Original Equipment Manufacturer (OEM)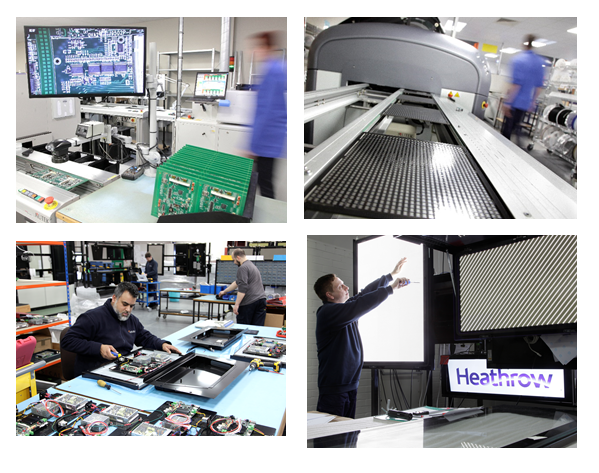 One of the most important facts about Infotec is that we are an OEM – Original Equipment Manufacturer.
When we supply passenger information display systems, they come with sub-assembly components and software that we have designed, manufactured and coded ourselves.
For our clients this delivers significant advantages, some of which have been particularly useful over the past couple of years, when hundreds of businesses have suffered supply chain issues.
At its peak towards the end of summer 2021, a survey from the Confederation of British Industry found that business stock levels were at their lowest since 1983 (CBI, n.d.), while an ONS survey found that 23% of UK firms could not get the goods and services they needed from the EU and 15% could not get them from within the UK. While the situation has improved, it is still causing issues and suppliers have backlogs of orders to deal with.
We are not saying that we have not been affected by shortages of materials, but where this has happened we have been able to modify designs to prevent it bringing manufacturing to a halt. Our skills at creating what our customers need as a solution to their passenger information issues have also been invaluable in making adaptations without any impact on performance or loss of quality.
The fact that we design and build our own systems means we can guarantee their quality. This is proven through audited certifications, the warranties we offer, and the extensive lifespan of our products.
If clients need advice on product installation, maintenance and/or care, we are able to offer an unrivalled level of customer service. Our support team members have direct access to the engineers who designed and built the products. Using us, the OEM, means customers have access to outstanding technical and engineering support.
When we are approached by existing or potential clients who come looking for passenger information displays to meet a specific need, as an OEM we can supply products or a combination of products that exactly meet the demands of their purpose and of the operating conditions they will be subject to.
Using an OEM for your passenger information system provides unrivalled flexibility, quality and long-term support.
References
CBI. (n.d.). Retail sales and orders growth strong but stock shortages mount - CBI. [online] Available at: https://www.cbi.org.uk/media-centre/articles/retail-sales-and-orders-growth-strong-but-stock-shortages-mount-cbi/.
---
Infotec is excited to announce the arrival of the new IPH4, an innovative third generation server we have developed that offers advanced features and advantages over its IPH3 predecessors.
---
A full range of Infotec assets have been deployed in Cardiff to provide clear, detailed information on the main concourse, on every platform, in waiting areas, subways and outdoors.
---
Clients enjoy significant benefits as a result of Infotec being an Original Equipment Manufacturer (OEM)
---
Millions of people will benefit from the innovative passenger information displays designed and manufactured for this project by Infotec.
---
Infotec has now been operating for 30 years, maintaining a dedication to manufacturing excellence.